This post may contain affiliate links, which won't change your price but will share some commission.
The end of the month gets pretty hectic for me. I'm always working on a deadline for my part time job. Because of the holidays, this month has been a little extra hectic, and the deadline fell a bit earlier than usual. So I wanted a quick and easy slow-cooker recipe - something that I could pop in after I dropped my husband off at the train station in the morning and forget about it until he got home at night. I found this over on Pinterest and it really fit the bill! It was super easy to put together and didn't require any browning or anything ahead of time. Perfect. This turned out fantastically, and is definitely one of the best slow-cooker recipes I've prepared. I served this with Broccoli Parmesan Fritters. I'm planning to use the leftovers to make French Dips.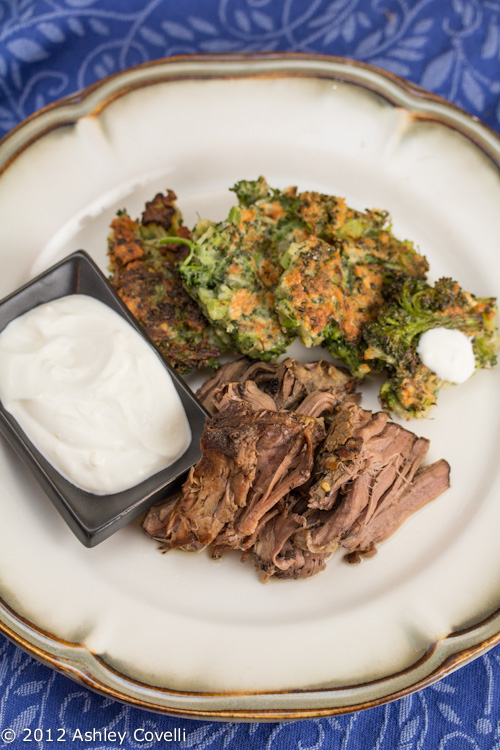 Balsamic Roast Beef
Robyn Stone - Add A Pinch
Serves: 6-8
1 3-4 pound boneless roast beef (chuck or round roast)
1 cup beef broth
½ cup balsamic vinegar
1 tablespoon Worcestershire sauce
1 tablespoon soy sauce*
1 tablespoon honey
½ teaspoon red pepper flakes
4 cloves garlic, chopped
Place roast beef into the insert of your slow cooker. In a 2-cup measuring cup, mix together all remaining ingredients. Pour over roast beef and set the timer for your slow cooker. (4 hours on High or 6-8 hours on Low)
Once roast beef has cooked, remove from slow cooker with tongs into a serving dish. Break apart lightly with two forks and then ladle about ¼ – ½ cup of gravy over roast beef.
Store remaining gravy in an airtight container in the refrigerator for another use.
Notes
If you prefer a more pronounced flavor, once the roast beef has been removed, use a fat separator on the gravy and then pour the gravy into a saucepan over medium heat. Simmer until the gravy has reduced by half.
*Optional: use Gluten Free
Big Flavors Rating: 5 Stars