This post may contain affiliate links, which won't change your price but will share some commission.
I came across this recipe and thought it sounded pretty interesting, so I told Dino that I planned to try a new chili out for dinner. "Why? You make one that's perfect. You don't mess with perfection." he said. "But I want to try something new. This one has pumpkin in it! It's totally different!" I replied. He remained skeptical, but didn't argue with me any further. I'm glad I tried this one out. It's really tasty and full of fall flavor. It's not as good as our good ol' standby recipe, but it's nice and different. And hey, sometimes you just need a new recipe! As a bonus, the house smells wonderful while this is cooking 🙂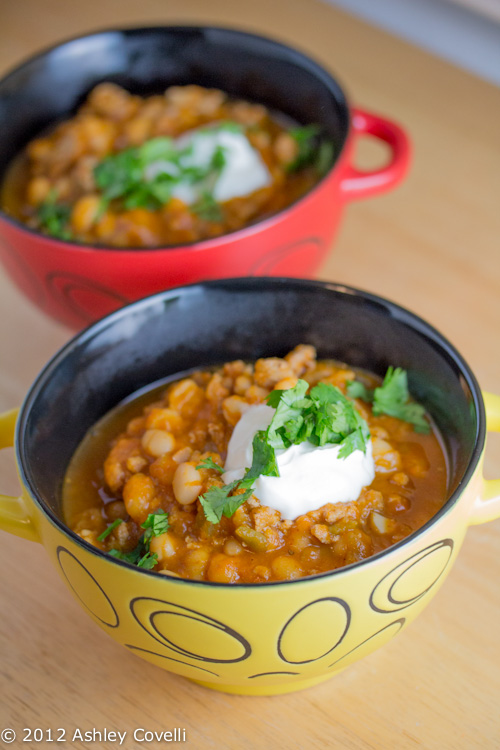 Slow-Cooker Turkey White Bean Pumpkin Chili
Gina's Skinny Recipes
Servings: 9 • Serving Size: 1 cup • Old Points: 3 pts • Points+: 5 pts
Calories: 182.6 • Fat: 2.3 g • Protein: 23.3 g • Carb: 10.9 g • Fiber: 8.8 g • Sugar: 2.1 Sodium: 429.8 (without salt)
cooking spray
2 lb 99% lean ground turkey
½ teaspoon olive oil
1 small onion, chopped
3 garlic cloves, minced
1 teaspoon chili powder, to taste
2 bay leaves
2 teaspoon cumin
1 teaspoon oregano
2 (15 oz cans) of white northern or navy beans, rinsed and drained
15 oz can pumpkin puree (not pumpkin pie filling)
4.5 oz canned chopped green chile
2 cups low sodium, fat free chicken broth
fat free sour cream for topping (optional)
chopped cilantro and chives for topping (optional)
salt and pepper to taste
Heat a large heavy saute pan over high heat and lightly spray with oil. Add meat and cook, breaking it up until white, about 5 minutes. Add to slow cooker.
Add oil to the saute pan, then onions, garlic, sauté about 3 - 4 minutes; add cumin and sauté another minute.
Add to slow cooker. Add beans, pumpkin puree, green chilis, broth, chili powder, oregano, and bay leaves. Cover and cook on high for 4 hours or low for 8 hours.
Remove bay leaves and adjust seasoning to taste before serving. Enjoy!
Big Flavors Rating: 4 Stars