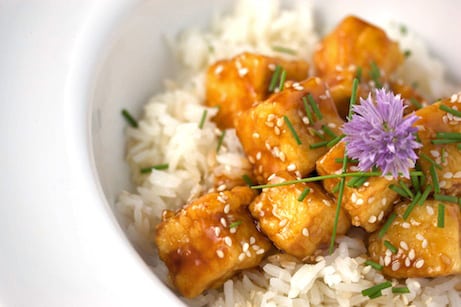 Crispy Sweet and Sour Tofu
This post may contain affiliate links. Thank you for supporting the brands that keep me creative in my tiny kitchen!
This recipe is great! And it actually makes enough to have a little bit leftover. Usually, even when tofu recipes serve four, the two of us can eat it all no problem. This was really great over rice. I substituted an egg for the egg substitute, which makes it non-vegan, but still vegetarian and delicious. I garnished it with some freshly snipped chives and chive blossoms from my garden. Yum!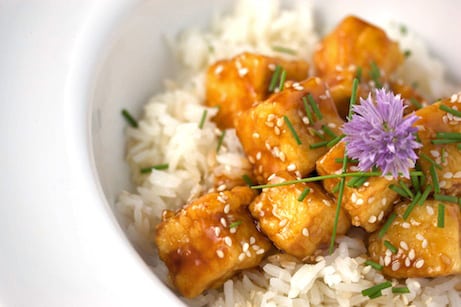 Crispy Sweet and Sour Tofu
veganyumyum.com
Serves Two
1 Tub Extra Firm Tofu, pressed
2 teaspoons Ener-g Egg Replacer + 4 tsp water, mixed
¼ cup Cornstarch
¼ cup Peanut or Canola Oil
Sesame Seeds for garnish
Sauce
3 ½ tablespoons Seasoned Rice Vinegar (you can eyeball the 1/2 Tbs)
¼ cup Water
2 tablespoons + 2 tsp Sugar
1 tablespoon Tamari
1 tablespoon Ketchup
1 teaspoon Molasses
¼ teaspoon Ginger Powder
½ teaspoon Salt
1 ½ tablespoons Cornstarch + 2 Tbs water
Slice the tofu into triangles or small cubes. Smaller = better for this recipe, since smaller pieces won't have a tendency to break when you toss them, and they have a bigger surface area to volume ratio (read: they'll be crispier).
Toss tofu with the egg replacer/water mixture until coated. Then toss in cornstarch until each piece is coated and dry, adding more cornstarch if needed.
Heat oil in a large non-stick skillet or wok.
While oil is heating, mix sauce ingredients except for the cornstarch/water into a small sauce pan and whisk over medium heat until sugar and salt is dissolved. Add cornstarch mixture and whisk until the sauce thickens. If you leave the sauce unattended now it will thicken and burn, so keep an eye on it. When thick, turn off heat and set aside.
Place tofu in the hot oil, being careful not to burn yourself. You don't want the tofu to be crowded or the pieces will stick to each other, so fry it in batches if needed. Fry for 3-5 minutes until golden on the bottom, then gently turn and brown the other side.
Drain tofu from oil (in the sink like you'd drain pasta, being very careful), and place tofu in a large bowl. Pour sauce on top and gently toss to completely coat. Sauce should be thick and sticky – it shouldn't pool at the bottom of the bowl.
Top with sesame seeds and serve immediately.
MacGourmet Rating: 4 Stars