This post may contain affiliate links, which won't change your price but will share some commission.
To go with the Slow-Cooker Guinness Corned Beef and Cabbage, I wanted to make some crispy potatoes. The idea for this sounded good in my head, but I don't think that I executed it quite right. I didn't let them get crispy enough before adding the cheese, and there was a bit too much oil. I think this has potential, but it wasn't a standout dish as is. Ah well, next time!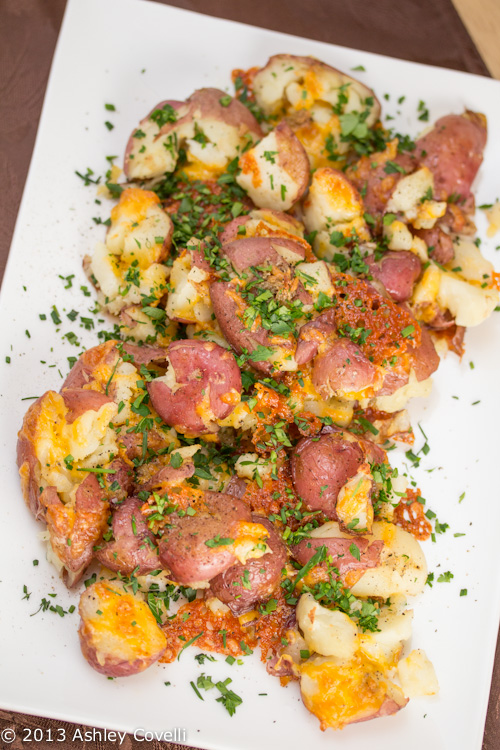 Crispy Cheddar Herb Potatoes
Ashley Covelli
Small red potatoes
Extra-virgin olive oil
Kosher salt & freshly ground black pepper
Garlic
Grated cheddar cheese
Fresh parsley, chopped
Fresh chives, chopped
Preheat oven to 450°F.
Put potatoes in the bottom of a pot and fill with cold water. Add a good pinch of salt and bring to a boil on the stovetop. Cook until the potatoes are fork tender. Drain.
While the potatoes are cooking, cut the garlic into a few large chunks and drop it into a mortar and pestle. Add a good pinch of salt and some pepper and top with olive oil. Mash it all together until the ingredients are well combined.
Drizzle a cookie sheet with plain olive oil. Place the drained potatoes on the sheet and smash with the bottom of a glass or a potato masher to flatten. Drizzle the garlic-infused oil over the tops of the potatoes and bake for 10-15 minutes. Remove from the oven and sprinkle some cheese over top. Return to the oven for an additional 10 minutes, or until the cheese is melted and brown on top.
Remove from oven and season with some more pepper. Sprinkle the herbs over top and serve.
Big Flavors Rating: 3 Stars