This post may contain affiliate links, which won't change your price but will share some commission.
We had some friends over for dinner, and since the weather forecast looked good, we decided to grill. I wanted to try out a new potato salad recipe, and I found one that would use some of the fresh herbs from my garden. This stuff was FANTASTIC! I think it may be my favorite potato salad ever. The rice vinegar gave it a nice tang, and we all loved the fresh herb flavor - especially the dill. It's mildly onion-y from the green onions, the celery adds a nice crunch and the brightness from the lemon zest was the perfect finishing touch.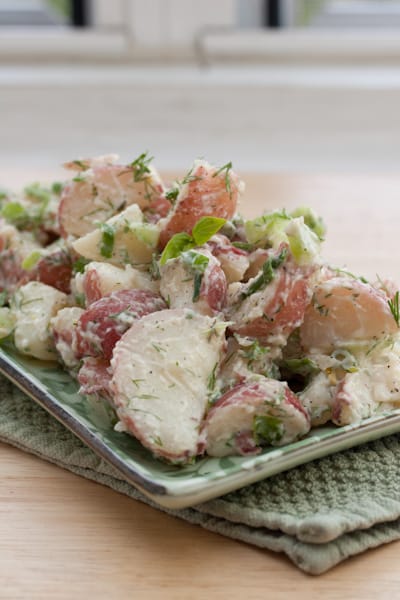 Creamy Potato Salad with Lemon and Fresh Herbs
Bon Appétit July 2007
Pam Anderson
3 pounds baby red potatoes
3 tablespoons unseasoned rice vinegar
¾ cup mayonnaise
3 medium green onions, thinly sliced
1 celery stalk, cut into ⅓-inch cubes
¼ cup chopped fresh parsley
¼ cup chopped fresh basil
2 tablespoons chopped fresh dill
1 ½ teaspoons finely grated lemon peel
Bring potatoes to boil in large pot of water. Reduce heat to medium-low and simmer until potatoes are tender, about 17 minutes. Drain; let stand until cool enough to handle, about 20 minutes.
Cut potatoes into ¾-inch pieces. Place 1 layer of potatoes in large bowl; sprinkle with some of vinegar and salt and pepper. Continue layering potatoes with vinegar, salt, and pepper. Add all remaining ingredients; toss. Season with salt and pepper. DO AHEAD Can be made 8 hours ahead. Cover and chill.
Big Flavors Rating: 5 Stars