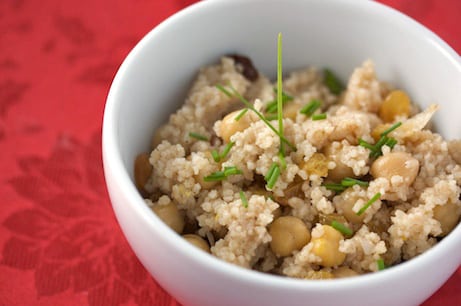 Couscous with Garbanzo Beans and Golden Raisins
This post may contain affiliate links. Thank you for supporting the brands that keep me creative in my tiny kitchen!
I was looking for a side dish that I made a while back that was similar to this, but couldn't find it, so I gave this one a shot. It was really good. The lemon is nice with the raisins and chickpeas. I used whole wheat couscous, and topped it with chives for some color.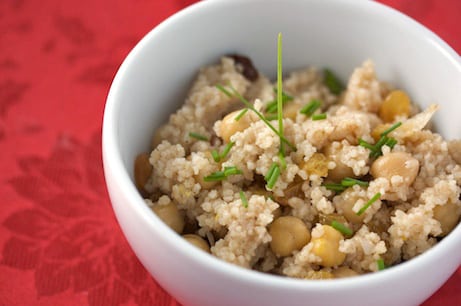 Couscous with Garbanzo Beans and Golden Raisins
Bon Appétit February 2000
yield: 4 servings
Couscous is easy to cook—just add it to boiling water, remove it from the heat, and let it stand for a few minutes until the water is absorbed. The addition of cinnamon, lemon peel, garbanzo beans and golden raisins gives this side dish a Mediterranean flair.
1 lemon
2 tablespoons garlic oil
½ teaspoon ground cinnamon
1 cup couscous
1 15-ounce can garbanzo beans (chickpeas), rinsed, drained
½ cup golden raisins
Finely grate enough peel from lemon to measure 1 1/2 teaspoons; set lemon peel aside. Squeeze enough juice from lemon to measure 2 tablespoons. Combine 2 cups water, lemon juice, garlic oil and ground cinnamon in medium saucepan. Bring to boil. Simmer 1 minute. Remove from heat. Stir in 1 cup couscous. Cover and let stand until water is almost absorbed, about 5 minutes. Mix in garbanzo beans, golden raisins and reserved lemon peel. Cover and let stand 5 minutes longer. Fluff couscous with fork. Season to taste with salt and pepper. Transfer couscous to bowl and serve.
MacGourmet Rating: 4 Stars