This post may contain affiliate links, which won't change your price but will share some commission.
I had a bunch of queso fresco leftover from when I made some delicious White Bean and Spinach Tacos last week, so I sought out a recipe to help me use it up. This corn salad sounded really interesting, and I was pretty certain I'd be able to track down the choclo corn at my local supermarket, as they have a pretty impressive Latin food section. This salad was good, but not my favorite. Dino seemed to like it more than I did. The choclo has an interesting, chewy texture (maybe I undercooked it?), and the flavors in the dressing are all pretty mild. It definitely needs a healthy amount of salt and pepper, and it does get better the longer it sits in the fridge, because all of the flavors infuse with the corn. I probably wouldn't make this again, but that's just because I have waaaaaay to many things on my ever-growing "to try" list.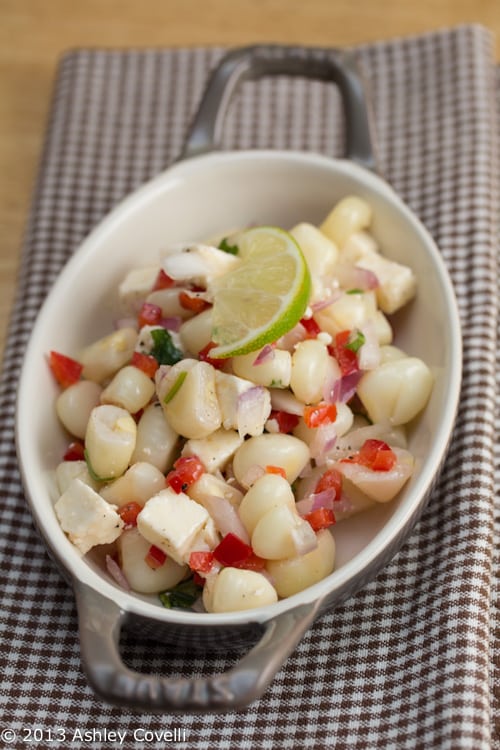 Corn Salad with Queso Fresco - Ensalada de Choclo
About.com - Marian Blazes
This salad is accompanies many Latin meals. It has a simple lime dressing that allows the fresh flavors of the ingredients to shine. Corn, onions, cilantro, red pepper, and cubes of queso fresco (farmer's cheese) are tossed with a little bit of vegetable oil, lime juice, salt and pepper. If you can find frozen Andean choclo corn at your local Latin grocery, it is fantastic in this light, refreshing, and nutritious salad.
3 cups cooked corn kernels
1 red pepper, finely chopped
1 red onion, finely chopped
8 ounces queso fresco (queso blanco, farmers cheese, or other fresh, unaged white cheese)
3 tablespoons vegetable or olive oil
juice of 1 lime
2 tablespoons minced cilantro
salt and pepper to taste
Whisk lime juice into oil and season with salt and pepper.
Gently toss all ingredients together. Taste and season with salt and pepper as desired.
Serve chilled.
Big Flavors Rating: 3 Stars