This post may contain affiliate links, which won't change your price but will share some commission.
When I was growing up, I used to go to Olive Garden with my mom pretty often. Since moving to New York and marrying an Italian, I haven't stepped foot into an Olive Garden - ha! I really enjoyed the soup, salad and breadsticks (and the tiramisu) there more than the main courses. I used to really love the pasta e fagioli. Now that I have a toddler, I often get this soup from an Italian restaurant across the street, and he loves it! But it isn't quite like the stuff I used to get. So when I saw this recipe, I thought it would be great for the whole family. It turned out really well - nice and hearty with a lot of flavor - but I don't know if it tastes exactly like the stuff at OG. Maybe it's just been so long since I've been there, maybe my tastes have changed...maybe both! But I think this is a lot more like a chili than what I remember...which was totally fine! It was nice and filling, and everyone really enjoyed it. And I had a parmesan rind in the fridge to throw in there that was just the right size, too! When I reheat some of this, I'm going to add more beef broth just to see if that makes a big difference, but I did enjoy it as is. And hey...a thicker stew-like dish is much less messy to feed to a toddler! 😉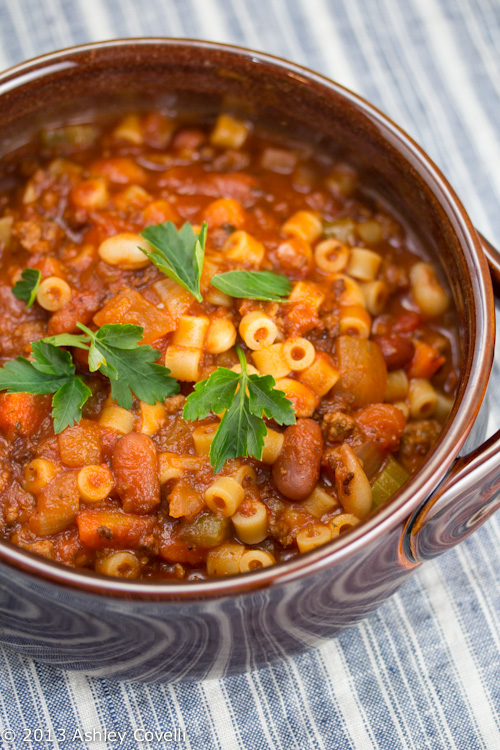 Copycat Olive Garden Pasta e Fagioli Soup
Iowa Girl Eats (Slightly adapted from Todd Wilbur)
Serves a crowd
Ingredients:
1lb ground beef (I used 90/10 grass fed)
1 small onion, chopped (1 cup)
1 large carrot, chopped (1 cup)
2 stalks celery, chopped (1 cup)
2 cloves garlic, minced
28oz can crushed tomatoes
15oz can tomato sauce
15oz can beef broth (plus more for heating)
15oz can red kidney beans (with liquid)
15oz can great northern beans (with liquid)
1 teaspoon salt
1 teaspoon dried oregano
1 teaspoon dried basil
½ teaspoon dried thyme
½ teaspoon pepper
2×2″ parmesan rind (optional)
8oz dry ditalini pasta*
Directions:
1. Brown ground beef in a large soup pot over medium-high heat until no longer pink, lightly seasoning with salt & pepper. Drain then return to the pot. Add onions, carrots, celery, and garlic, lightly season with salt & pepper, then saute for 10 minutes, stirring occasionally. Add the remaining ingredients, except for the pasta, then simmer for 1 hour stirring occasionally.
2. When the soup has 10 minutes left to simmer, cook pasta in salted boiling water until just under al dente. Drain then add to the soup and simmer for 5-10 more minutes. Remove parmesan cheese rind, then serve.
*Optional: use Gluten Free
Big Flavors Rating: 4 Stars