This post may contain affiliate links, which won't change your price but will share some commission.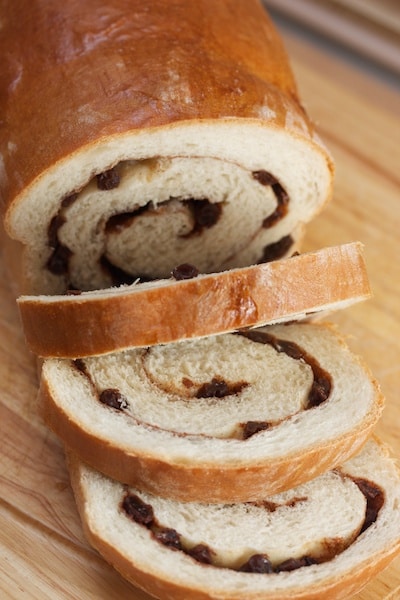 When I saw this post in my RSS reader, I knew I had to make it. This bread takes a while to make because you have to let it rise twice, but it's totally worth it. It's sweet but not too sweet, and the raisins plump up really nicely. What's better than homemade bread, especially one that passes for breakfast OR dessert?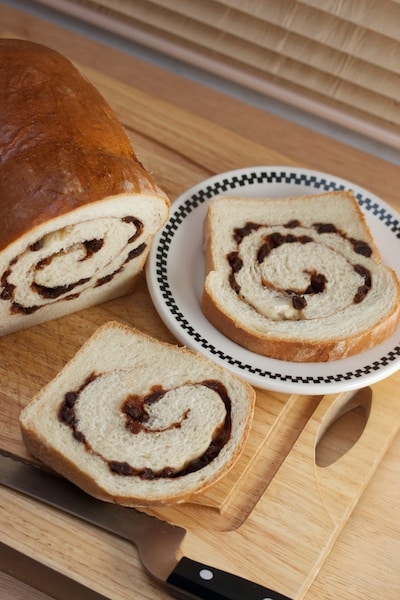 Cinnamon Raisin Swirl Bread
My Kitchen Snippets
For the dough:
1 package/7 grm active dry yeast
1 ½ cups lukewarm milk (~100°F)
3 tablespoon sugar
3 ¾ to 4 cups unbleached all-purpose flour
1 teaspoons salt
4 tablespoons softened unsalted butter
additional softened butter for greasing bowl and pan
For the Swirl
1 cup raisins
1 tablespoon cinnamon + 3 tablespoon sugar
For Eggwash
1 egg - beaten
1. Dissolve the yeast with ¼ cup of lukewarm milk and 1 tablespoon of sugar and let it stand for 10 minutes. Combined the rest of milk.
2. In a mixing bowl, combined 3 ¾ cups flour, salt and the rest of the sugar. With the paddle attachment, turn on the mixer to medium speed.
3. Pour in yeast mixture slowly to the flour, add in the butter. Continue to knead until smooth and elastic. At this stage if the dough is too sticky you might need to add in the rest of the flour. Continue to knead until smooth. This will takes about 7 minutes. Place the dough in a greased bowl, cover with plastic wrap or a kitchen towel. Let it rise in a warm place until doubled in size.
4. Mix together the sugar and cinnamon powder in a small bowl.
5. Punch down the dough; roll them out on a floured work surface to about 16" x 8". Brush the surface lightly with some water and sprinkle them with the cinnamon sugar mixture. Top it with the raisins.
6. Roll the dough up from the short end and pinch the seams shut. You should have a 9" inch long roll.
7. Place in a well greased loaf pan, cover with plastic wrap and let it rise for an hour. Brush the top with some beaten egg.
8. Baked in a pre-heated 375 degree oven for 40 minutes or until rapping the bottom of the loaf produces a hollow sound. Remove from oven and let it cool on a wire rack before slicing into it.
Big Flavors Rating: 4 Stars