This post may contain affiliate links, which won't change your price but will share some commission.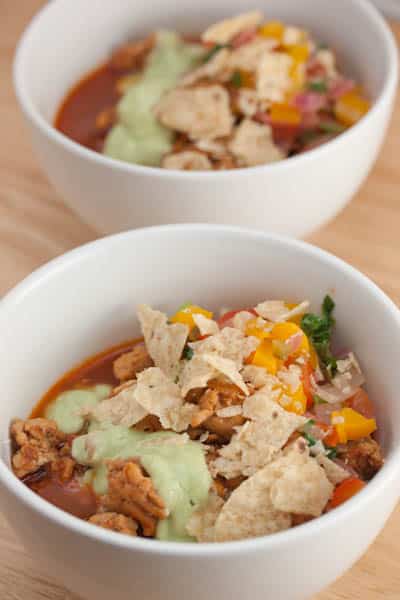 I've been trying to be less wasteful with food in my kitchen, and that means taking extra time when menu planning to try to use more of the ingredients that I buy. I hate buying something like herbs for a recipe and then forgetting about them and not using the rest up. So when I made Maple-Glazed Scallops a few days ago, I knew I'd have some extra bacon to use up. This recipe stood out to me, and it calls for 6 slices of bacon. It's a really different take on chili, and it was good, but we still prefer my Spicy Three-Bean Chili. This recipe takes a lot of ingredients and dirties a lot of dishes, but it's tasty. We especially liked the avocado buttermilk ranch portion, which was easy to whip up, and would be great on a Mexican inspired salad. The coolness of the ranch was a great compliment to the hot chili, and the chips added a nice, salty crunch.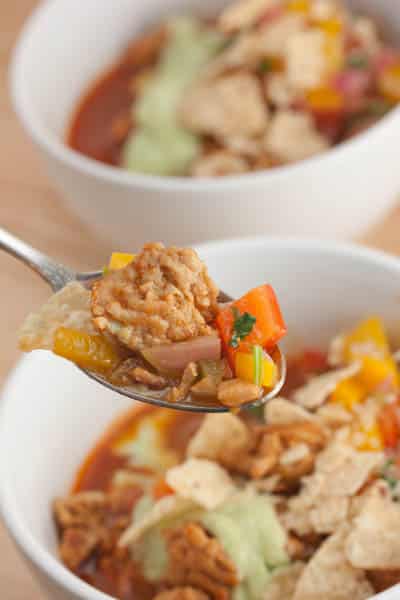 Chipotle Chicken Chili with Flaming Tequila-Pepper Salsa and Avocado Ranch Dressing
Rachael Ray's Look + Cook
Serves 4
This spicy chicken chili offers a warm welcome to your family. Serve with a tequila-pepper salsa and avocado ranch dressing with tortilla chips.
4 tablespoons extra virgin olive oil (EVOO), divided
6 slices smoky bacon, chopped
2 pounds ground chicken breast
2-3 tablespoons pureed chipotle in adobo, depending on preferred heat level
1 tablespoon ground cumin
1 tablespoon ground coriander
1 tablespoon smoked sweet paprika
1 large yellow onion, chopped
3-4 garlic cloves, finely chopped or grated
3 tablespoons tomato paste
4 cups chicken stock (32 ounces)
Salt and pepper
1 yellow bell pepper, seeded and chopped
1 red bell pepper, seeded and chopped
1 orange bell pepper, seeded and chopped
1 medium red onion, chopped
2 jalapeño peppers, seeded and finely chopped
4 shots of tequila
Juice of 1 lime
¼ cup cilantro leaves, chopped
1 avocado, pitted
Juice of 1 lemon
1 cup buttermilk
¼ cup fresh chives, finely chopped
Crushed tortilla chips, for garnish
Place a large heavy-bottomed pot over medium-high heat with 2 tablespoons of the EVOO. Add the bacon to the pan and brown, about 3-4 minutes. Add the chicken to the pot and brown, 5-6 minutes, stirring occasionally to break up the lumps. Add the pureed chipotle, cumin, coriander and smoked paprika, then stir for 1 minute. Add the onion and garlic to the pot and cook until tender, 5 minutes more. Add the tomato paste and chicken stock and some salt and pepper to the pot and bring the liquids up to a bubble. Reduce the heat to a simmer.
While the chili is simmering, place a medium size skillet over medium-high heat with the remaining 2 tablespoons of EVOO. Add the bell peppers, red onion and jalapeños to the skillet and cook until tender, 4-5 minutes. Remove the skillet from the heat and add the tequila. Return the skillet to the heat and flame the tequila to burn off most of the alcohol. Add the lime juice, cilantro and some salt to the salsa.
To a food processor bowl add the avocado, chives, lemon juice and buttermilk. Process until smooth and then season with salt and pepper.
Serve up the chili with some of the tequila-pepper salsa and avocado ranch dressing. Garnish with tortilla chips.
Big Flavors Rating: 4 Stars