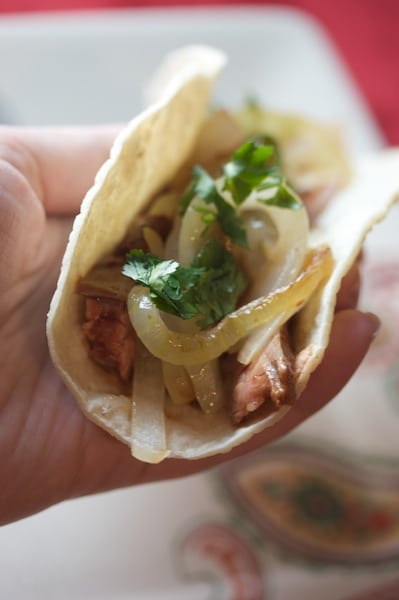 Chipotle Beef Tacos with Caramelized Onions (Tacos de Carne Asada Enchipotlada)
This post may contain affiliate links. Thank you for supporting the brands that keep me creative in my tiny kitchen!
These tacos pack a lot of flavor for relatively simple ingredients. Unfortunately, I couldn't track down any tomatillos, so I ended up using a bottled salsa. I served these with the suggested bean recipe.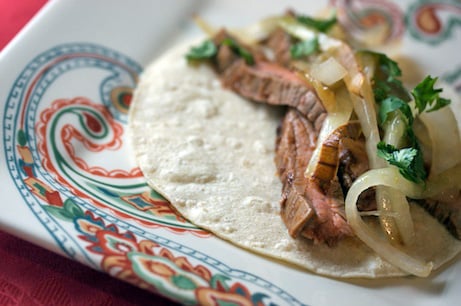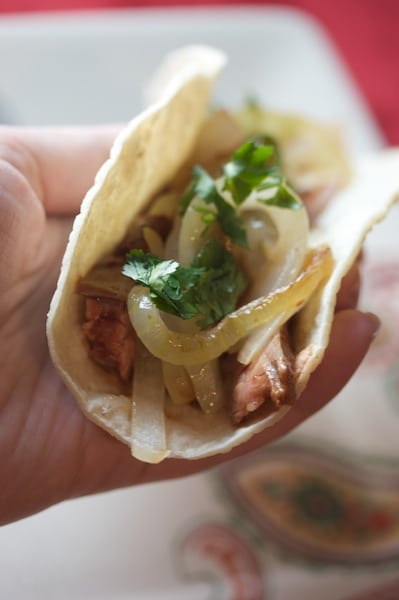 Chipotle Beef Tacos with Caramelized Onions (Tacos de Carne Asada Enchipotlada)
Mexican Everyday – Rick Bayless
Serves 4
One 7-ounce can chipotle chiles en adobo
1 pound skirt or flank steak (skirt steak should be trimmed of fat and white silverskin)
3 tablespoons vegetable or olive oil (divided use)
2 medium white onions, sliced 1/4 inch thick
Salt
12 warm corn tortillas, store-bought (see reheating instructions on page 214) or homemade (page 212)
About 3/4 cup Smoky Chipotle Salsa (page 149), or bottled salsa or hot sauce, for serving
Turn the oven onto its lowest setting. Open the can of chipotles and scrape them into a food processor or blender along with the canning sauce. Process until smooth. Use a brush to smear a light chipotle patina on the steak (go a little heavier on flank than skirt steak(. You'll have chipotle marinade left over; cover and refrigerate for up to several weeks.
In a very large (12-inch) skillet, the heavier the better, heat 2 tablespoons of the oil over medium-high. Add the onions and cook, stirring frequently, until golden but still crunchy, about 4 to 5 minutes. Scoop into a heatproof serving bowl, leaving as much oil as possible in the skillet, and slide into the oven.
Return the skillet to medium-high heat (or a little lower for flank steak). Add the remaining 1 tablespoon oil. When it is hot, lay in the steak. Brown on both sides, cooking until as done as you like : about 3 minutes per side for medium skirt steak, about 5 minutes per side for medium-rare 1 1/2-inch-thick flank steak. The meat will be juiciest if you let it rest in the oven for 5 to 10 minutes on a wire rack over a plate, but you can cut and serve it right away.
CUt the skirt steak into roughly 3-inch lengths, then cut each piece across the grain into 1/4-inch strips. Or cut the flank steak across the grain straight down into 1/4-inch slices; on the thick end, you may want to cut the slices lengthwise in half into thinner strips.
Toss the meat with the onions. Taste and season with salt, usually about 1 teaspoon. Serve with the warm tortillas and salsa or hot sauce for making soft tacos.
Reheating Corn Tortillas
With a microwave oven: Dribble 3 tablespoons water over a clean kitchen towel, then wrap your cold tortillas in it. Slide the package into a microwaveable plastic bag and fold the top over – don't seal it. Microwave at 50% power for 4 minutes to create a steamy environment around the tortillas. Let stand for 2 to 3 minutes before serving.
With a vegetable steamer:
Set up a vegetable steamer (one without that little post sticking up). Pour about 1/2 inch of water into the bottom. Wrap the cold tortillas – no more than 12 at a time – in a clean kitchen towel. Lay the package in the steamer, set the lid in place and set the pot over high heat. When steam comes puffing out, set the time for 1 minute. Then turn off the heat and let the tortillas sit in their steamy world for 10 minutes. They're ready.
MacGourmet Rating: 4 Stars