This post may contain affiliate links, which won't change your price but will share some commission.
To celebrate the Chinese New Year, I decided to make a couple "take-out" dishes. I decided to try my hand at making egg rolls, and they turned out fantastic! They were really easy to put together (they just look like they'd be complicated to make!) and they were delicious! I totally forgot to put in the garlic powder, so I can only imagine it'd make them even better. I used grapeseed oil and deep fried them, and they were done in a snap! We dipped them in duck sauce and dug right in!
Happy Year of the Ox, everyone!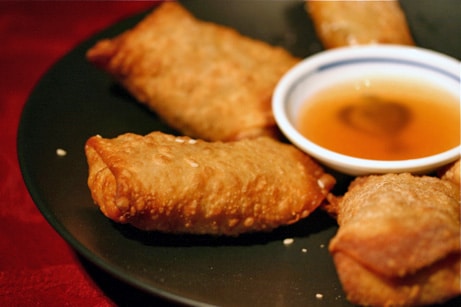 Best Egg Rolls
allrecipes.com - Angela Hamilton
"These are fabulous as a side dish with stir-fry dishes. Serve warm with egg roll sauce or soy sauce if desired."
1 lb. ground pork
1 teaspoon ground ginger
1 teaspoon garlic powder
1 quart peanut oil for frying
2 tablespoons all-purpose flour
2 tablespoons water
2 cups shredded cabbage
2 ounces shredded carrots
8 (7 inch square) egg roll wrappers
2 tablespoons sesame seeds (optional)
1. Season pork with ginger and garlic powder and mix thoroughly. Heat mixture in a medium skillet, stirring, until pork is cooked through and no longer pink. Set aside.
2. In another large skillet heat oil to about 375 degrees F (190 degrees C) or medium high heat. While oil is heating, combine flour and water in a bowl until they form a paste. In a separate bowl combine the cabbage, carrots and reserved pork mixture. Mix all together.
3. Lay out one egg roll skin with a corner pointed toward you. Place about a ¼ to ⅓ cup of the cabbage, carrot and pork mixture on egg roll paper and fold corner up over the mixture. Fold left and right corners toward the center and continue to roll. Brush a bit of the flour paste on the final corner to help seal the egg roll.
4. Place egg rolls into heated oil and fry, turning occasionally, until golden brown. Remove from oil and drain on paper towels or rack. Put on serving plate and top with sesame seeds if desired.
MacGourmet Rating: 5 Stars