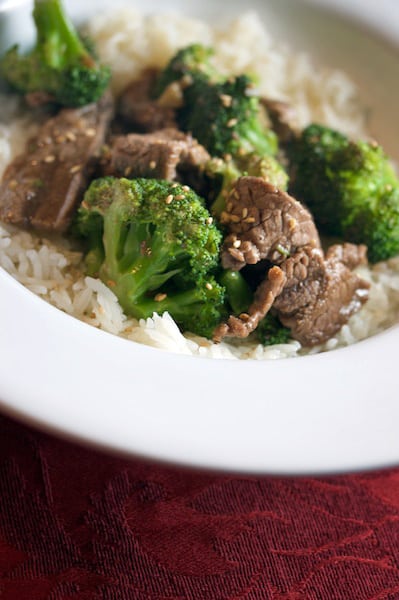 This post may contain affiliate links. Thank you for supporting the brands that keep me creative in my tiny kitchen!
This is another great recipe from Jaden Hair's new cookbook. This is simple to put together, so it's perfect for a weeknight meal. I wasn't able to get my hands on any Chinese black vinegar this time around, but I'm going to try to find it soon. I'm really curious to see what it tastes like. I also don't have a wok (I figure why bother unless you have a gas stove), so I cooked it in a large skillet. I sprinkled some toasted sesame seeds over the top at the end, and I thought it was a tasty addition. This was a quick and yummy meal.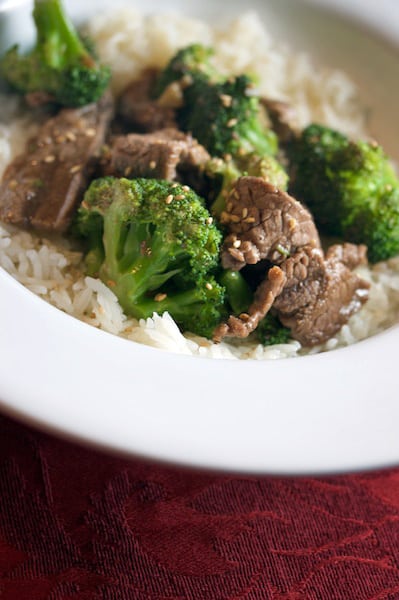 Chinese Beef Broccoli
The Steamy Kitchen Cookbook: 101 Asian Recipes Simple Enough for Tonight's Dinner – Jaden Hair
Serves 4 as part of a multicourse meal
1 lb (500 g) top sirloin or flank steak, thinly sliced into 1/8-in (3-mm)-thick strips
1 1/2 lbs (750 g) broccoli, cut into florets
1 tablespoon high-heat cooking oil
1 tablespoon minced garlic
BEEF MARINADE
1 1/2 teaspoons soy sauce
1 teaspoon cornstarch
1/2 teaspoon cooking oil
Freshley ground black pepper to season the beef
STIR-FRY SAUCE
3 tablespoons oyster sauce
2 teaspoons Chinese rice wine (or dry sherry)
2 teaspoons Chinese black vinegar (or balsamic vinegar)
1. In a bowl, combine the ingredients for the Beef Marinade. Add the beef and let marinate for 10 minutes at room temperature.
2. In a small bowl, mix together the ingredients for the Stir-fry Sauce.
3. In a wok or large sauté pan, add 1 inch (2.5 cm) of water and bring to a boil. Add the broccoli and cover to steam for 3 minutes. The broccoli should be bright green, crisp tender and you should be able to pierce the stem with a fork. Drain.
4. Discard the water in the pan and dry the pan well. Set the pan over high heat and when hot, add the high-heat cooking oil and swirl to coat. Add the garlic and fry for 15 to 30 seconds, until fragrant. Add the steak strips, keeping them in one layer and fry 30 seconds. Flip the strips and fry the other side.
5. Pour in the Stir-fry Sauce and stir to combine. Simmer until the sauce is thick enough to coat the back of a spoon, about 30 seconds. Add the cooked broccoli back into the pan and toss to coat well.
MacGourmet Rating: 4 Stars