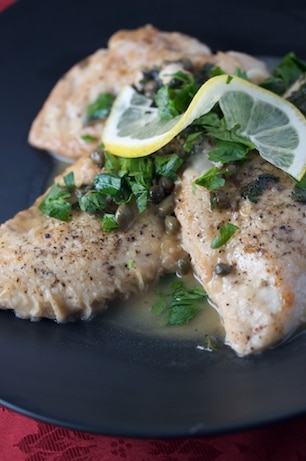 Chicken with Lemon-Caper Sauce
This post may contain affiliate links. Thank you for supporting the brands that keep me creative in my tiny kitchen!
This is an easy and straightforward recipe. I didn't bother pounding out the chicken – I just cooked it a little longer than the recipe suggested. In the magazine, they suggest serving it over a mix of white and wild rice, but I'm glad I went for pasta instead. I dropped some freshly shelled peas into the pasta water for the last minute or two of cooking time, drained them both, then sautéed some garlic in olive oil to bring it all together. It was the perfect compliment to the chicken.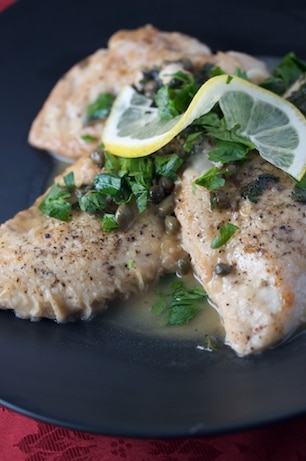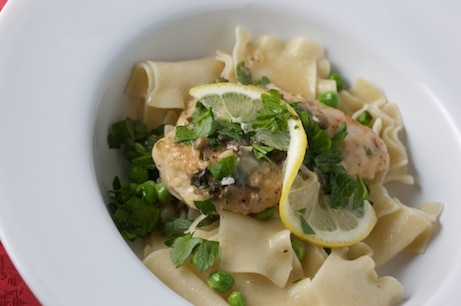 Chicken with Lemon-Caper Sauce
Cooking Light October 2009
Yield 4 servings (serving size: 1 breast half and 1 tablespoon sauce)
4 (6-ounce) skinless, boneless chicken breast halves
¼ teaspoon salt
¼ teaspoon black pepper
3 tablespoons all-purpose flour
2 tablespoons butter
½ cup fat-free, less-sodium chicken broth
¼ cup fresh lemon juice
2 tablespoons capers, drained
3 tablespoons minced flat-leaf parsley
1. Place chicken between 2 sheets of plastic wrap; pound to an even thickness using a meat mallet or small heavy skillet. Sprinkle chicken evenly with salt and pepper. Place flour in a shallow dish; dredge chicken in flour.
2. Melt butter in a large nonstick skillet over medium-high heat. Add chicken to pan; cook 3 minutes. Turn chicken over. Add broth, juice, and capers; reduce heat to medium, and simmer 3 minutes, basting chicken occasionally with sauce. Sprinkle with parsley; cook 1 minute. Remove chicken from pan; keep warm.
3. Bring sauce to a boil; cook 2 minutes or until thick. Serve over chicken.
Nutritional notes:
Calories: 267
Fat: 7.9g (sat 4.2g,mono 2g,poly 0.7g)
Protein: 40.5g
Carbohydrate: 6.4g
Fiber: 0.6g
Cholesterol: 114mg
Iron: 1.9mg
Sodium: 476mg
Calcium: 30mg
MacGourmet Rating: 4 Stars