This post may contain affiliate links, which won't change your price but will share some commission.
I picked up some chicken thighs from the store yesterday. I don't usually cook dark meat, but my husband loves it, so I figured I'd give it a go. I wanted to make something with ingredients I had on hand. I had some parsley and dill leftover from when I made Falafel, and I thought that it would pair well with some coarse ground mustard. This turned out really nice! The sauce is nice and tangy from the mustard, and the herbs really liven it up. My family loved it! I served this with a salad of baby arugula, sliced apple and red onion, garlic herb goat cheese and this Simple Balsamic Vinaigrette. Yum!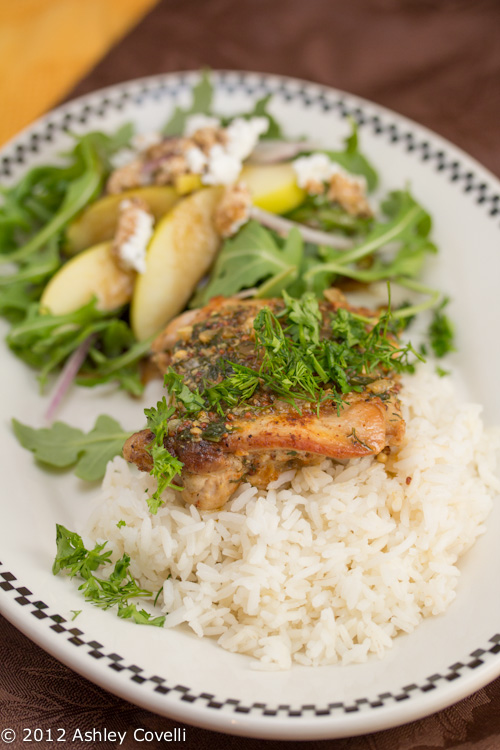 Chicken with Herb-Mustard Pan Sauce
Ashley Covelli
1 T extra-virgin olive oil
6 boneless, skinless chicken thighs (about 1 ½ pounds)
kosher salt and freshly cracked black pepper, to taste
1 t paprika
1 shallot, diced small
2 cloves garlic, minced
2 T coarse ground mustard
1 c unsalted chicken stock
2 T dill, chopped
2 T parsley, chopped
Heat the oil in a large, nonstick skillet over medium heat. Pat the chicken dry with a paper towel and season both sides with salt, pepper and paprika. Fry chicken for about 6 minutes per side and then remove to a paper towel lined plate. Add shallot and garlic to pan and stir to pick up the brown bits from the bottom of the pan. Add mustard and chicken stock. Stir until the mustard melts down, and add the chicken back to the pan. Cook a few more minutes, and then add in the herbs (reserving a little bit for garnish, if you like). Stir, reduce the heat to low and cover. Cook until the chicken reaches 170°F.
Serve the chicken over rice with the sauce spooned over top.
Big Flavors Rating: 4 Stars