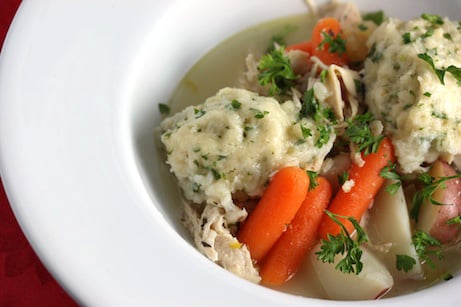 Chicken Stew with Dumplings
This post may contain affiliate links. Thank you for supporting the brands that keep me creative in my tiny kitchen!
My husband stayed home from work today, so I thought I'd make some chicken and dumplings to help him feel better. He hasn't been eating much the last few days, so I didn't even know if he'd try it. Well he just finished a giant bowl of this stuff! I hope it makes him feel better…and I have to tell you…it made me feel AWESOME! This stuff is incredibly flavorful. The dumplings are super soft and fluffy, and are the perfect topping to this stew. The only bad part of this is that I completely forgot to put the peas in it! I can still put them in the leftovers, but I'm bummed because I really love peas, and the sweetness from them would have made this somehow even more delicious than it already was. I used boneless skinless breast and thigh meat and it was perfect. It was a little time consuming but well worth it. This is definitely going to be my go-to recipe for chicken and dumplings from now on!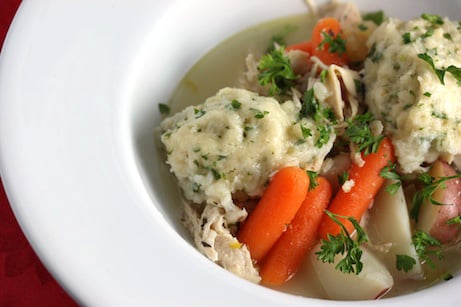 Chicken Stew with Dumplings
allrecipes.com – Elizabeth Durance
"My mother usually didn't care for dumplings. But she raved about this stew… dumplings and all. It's a down-home delicious meal that I make often for my family."
PREP TIME 10 Min
COOK TIME 1 Hr 35 Min
READY IN 1 Hr 45 Min
2 ½ lbs. chicken thighs or legs
5 cups water
1 teaspoon salt
½ teaspoon pepper
½ teaspoon dried basil
¼ teaspoon dried thyme
¾ lbs. new potatoes, quartered
3 carrots, cut into 2-inch pieces
2 celery ribs, sliced
1 medium onion, cut into eighths
1 (10 ounce) package frozen peas
DUMPLINGS:
1 ½ cups all-purpose flour*
2 teaspoons baking powder
½ teaspoon salt
3 tablespoons butter or margarine
¾ cup milk
¼ cup minced fresh parsley
Place chicken and water in a 5-qt. Dutch oven. Cover and cook over medium heat for 1 to 1-1/2 hours or until chicken is tender. Skim fat. Remove chicken from broth; allow to cool. Debone chicken and cut into chunks; return to broth. Add next nine ingredients. Cover and cook over medium heat for 15-20 minutes or until vegetables are tender. Meanwhile, combine flour, baking powder and salt in a bowl; cut in butter until mixture resembles coarse crumbs. Stir in milk and parsley. Drop dough by rounded tablespoonfuls into simmering stew. Cook, uncovered, for 10 minutes. Cover and cook for 8-10 minutes or until the dumplings are tender.
*Optional: use Gluten Free
Big Flavors Rating: 5 Stars