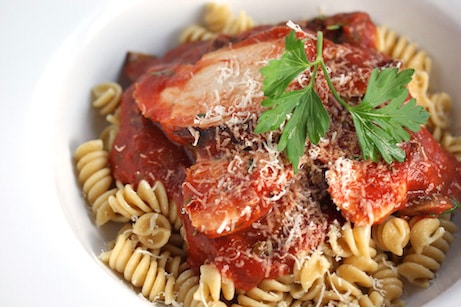 Chicken Short-Cut-A-Torre
This post may contain affiliate links. Thank you for supporting the brands that keep me creative in my tiny kitchen!
This was a good meal, but nothing too special. It was pretty easy to put together, and we liked it.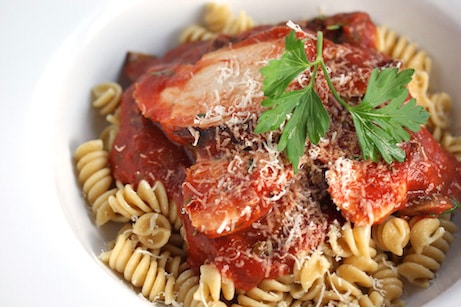 Chicken Short-Cut-A-Torre
30-Minute Meals – Rachael Ray
1lb . Penne
4 6 oz boneless, skinless chicken breasts or 8 thighs, or assortment
balsamic vinegar, enough to rub chicken
3 cloves garlic, minced
¼ teaspoon crushed red pepper flakes
3 tablespoons EVOO
3 Portabello mushroom tops, halved, then sliced thin
salt to taste
1 can (28 oz) crushed tomatoes
1 handful chopped fresh flat-leaf parsley
1 cup grated parmesan cheese
1 Start the pasta in boiling, salted water.
2 Rub the chicken pieces with Balsalmic vinegar. In a non-stick skillet on
high heat, cook the chicken 5 minutes per side. Remove from heat.
3 In another skillet on medium, heat the olive oil, then cook the garlic and
red pepper until the garlic speaks. Add the mushrooms (tossed to coat with
oil) and salt, then cook for 5 minutes. There should be brown mushroom sauce
on the bottom of the pan by then. If the mushrooms aren't soft, and there
isn't enough sauce, shake the pan and cook for a couple more minutes.
4 Add the tomatoes and parsley, salting to taste. The sauce should be a rich
brownish red. Cut the chicken diagonally, and add to the sauce to warm —
about 2 minutes. Add the pasta, which has been drained, and serve with
grated parmesan.
Servings: 4
Nutritional notes:
Nutrition (per serving): 778.9 calories; 24% calories from fat; 21.5g total
fat; 158.9mg cholesterol; 837.4mg sodium; 2127.7mg potassium; 67.7g
carbohydrates; 9.5g fiber; 2.9g sugar; 58.2g net carbs; 79.3g protein; 16.6
points.
MacGourmet Rating: 3 Stars