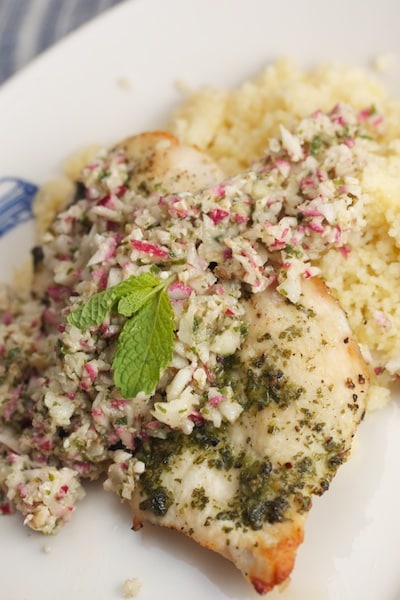 Chicken Paillards with Radish-Mint Chutney
This post may contain affiliate links. Thank you for supporting the brands that keep me creative in my tiny kitchen!
This recipe was pretty easy to put together, but the flavors weren't anything special. I made the suggested side dishes to go with this dish, and the sugar snap peas were fantastic!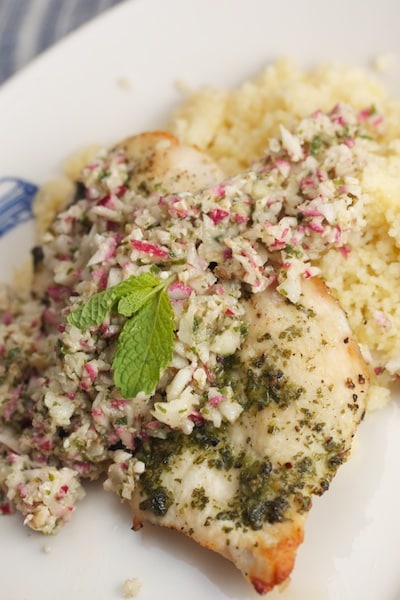 Chicken Paillards with Radish-Mint Chutney
Bon Appétit April 1997
Serves 2; can be doubled
Stir-fried Sugar Snap Peas and Cherry Tomatoes and buttered couscous are great sides. Round out the meal with sugared strawberries and toasted pound cake.
1 garlic clove
1/2 small jalepeño chili
1/4 cup (packed) fresh mint leaves
1/4 cup olive oil
5 medium radishes, trimmed
2 tablespoons walnut pieces
2 skinless boneless chicken breast halves
Preheat broiler. With processor running, drop garlic and chili through feed tube and process until finely chopped. Scrape down sides of work bowl. Add mint and oil blend well, scraping down sides of bowl occasionally. Transfer 2 tablespoons of mixture to small bowl and reserve. Add radishes and walnuts to mixture in processor. Using on/off turns, process until nuts are finely chopped. Transfer chutney to bowl; season with salt and pepper.
Using rolling pin, pound each chicken piece lightly between sheets of waxed paper to even 1/2-inch thickness. Sprinkle chicken with salt and pepper. Spread reserved 2 tablespoons mint mixture over both sides of chicken pieces. Broil chicken until brown and just cooked through, about 3 minutes per side.
Transfer chicken to plates. Top with chutney and serve.
Big Flavors Rating: 3 Stars