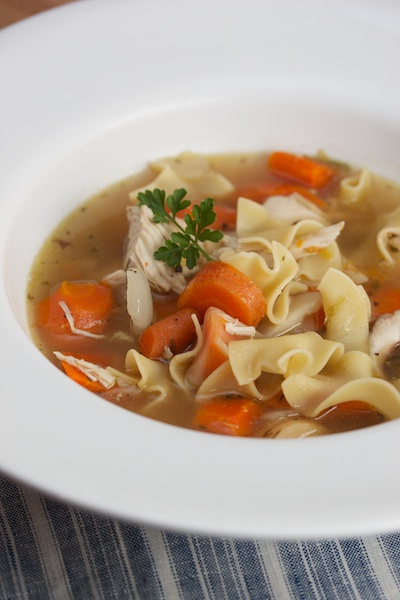 This post may contain affiliate links. Thank you for supporting the brands that keep me creative in my tiny kitchen!
This year's cold and flu season decided to end with a bang – totally shutting down my house for the last week. Ugh. Thank goodness we had some of this awesome homemade chicken noodle soup in the freezer. Dino makes the best chicken noodle soup, and it most certainly has healing powers… even though this round of sickness has just not wanted to ease up. Ugh. Hopefully we'll be back up and running again soon!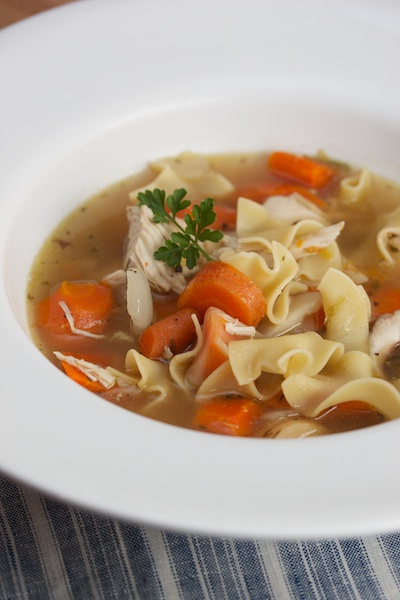 Chicken Noodle Soup
Dino Covelli
Notes: I try to avoid cooking with MSG, especially when someone is sick. That means I don't use bullion. Creating a flavorful soup without bullion takes a bit of practice. I gave a list of herbs that I sometimes use, as well as some prefab seasoning mixes that you may already have in your pantry. Using stock instead of water, cooking with the chicken bones in, and including a mirepoix really help develop the familiar chicken soup flavors you're used to.
Ingredients
2 Bone-In Chicken Breasts, or 2 Legs and Thighs
2 Large Carrots, Halved
2 Stalks Celery, Halved
1 Large Onion, Halved
1 Turnip
1 Parsnip
2 32 oz Boxes of Low Sodium Chicken Broth
6 oz Egg Noodles (dumpling style)
1 Handful Sliced Shiitake Mushrooms
Various Dried & Fresh Herbs or Seasoning Mixes
Some suggestions for herbs to add: salt, parsley, sage, thyme, marjoram, savory, coriander, white or black pepper, bay leaf, dill.
Or, some prefab spice blend suggestions: Mrs. Dash Original Blend, McCormick Poultry Seasoning, Morton Nature's Seasons Seasoning Blend, Sylvia's Soulful Seasoned Salt.
Directions
1. Put the chicken and halved veggies in a large soup pot and cover with the stock. Heat and simmer, uncovered, until the chicken meat falls off of the bones, skimming off the foam every so often.
2. Take everything out of the pot. Strain the broth. Pick the meat off of the bones and chop the veggies.
3. Season the broth to taste.
4. Bring the broth back up to a boil and drop in the egg noodles. They should cook quickly.
5. Return the chicken and chopped veggies the pot, adding the mushrooms.
6. Stir together, and serve.
Big Flavors Rating: 5 Stars