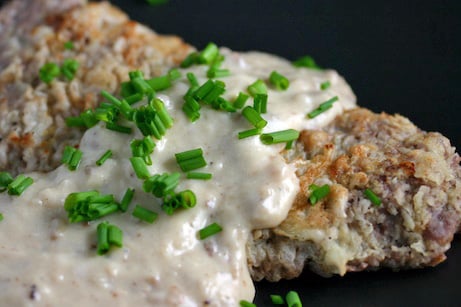 Chicken Fried Steak, with Cream Gravy
This post may contain affiliate links. Thank you for supporting the brands that keep me creative in my tiny kitchen!
This is the second recipe I've tried for chicken fried steak. So far both have been awesome! I don't think I got the oil quite hot enough this time, so it wasn't as crispy as I'd like it to be. And I tried to make it look a little prettier by putting some chives on it, but… well… it wasn't pretty. But it tasted great!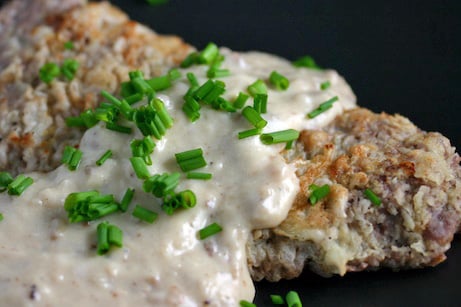 Chicken Fried Steak, with Cream Gravy
Blogger ayearatoakcottage
Serves 4
I think this comes from Texas, or at least the Texans claim to have invented it. It doesn't really matter where it comes from though. The fact remains that it is totally delicious.
oil or shortening for frying
4 tenderized beef cutlets (round or cube steak)
1 cup of well seasoned flour
(Use lots of pepper, some salt and garlic powder)
1 large egg, beaten
½ cup milk
For the Cream Gravy
2 heaping Tablespoons of seasoned flour
2 cups milk
Place about 1/4 inch of oil or shortening into a large skillet and heat over medium heat.
While the oil is heating, beat the egg together with the milk in a shallow dish. Place the seasoned flour in another shallow dish. Dredge the beef cutlets in the flour, and then in the egg and milk wash, and then once again in the seasoned flour, shaking off any excess.
Place the dredged cutlets into the heated oil and fry until golden brown on both sides, about 3 to 4 minutes per side. Remove to drain on a plate that has been lined with paper towels while you make the gravy.
Discard all but 2 tablespoons of the drippings from the pan. Stir in the flour and cook for about one minute, then slowly add the milk, stirring and scraping all the bits from the bottom of the pan. Cook over medium heat, stirring constantly until the gravy is thickened, for about 10 minutes or so. Taste and adjust the seasoning as necessary.
Serve the steaks with a little of the cream gravy spooned over, and pass any extra gravy at the table.
MacGourmet Rating: 4 Stars