This post may contain affiliate links, which won't change your price but will share some commission.
To go with the Irish Stew, I made a batch of these scones. They were really easy to put together, and were very tasty. They were perfect for soaking up the juices in the bottom of each bowl of stew. I think next time, I'll add some cheddar into the dough as well because, let's face it, more cheese is rarely a bad thing. This is a great way to get your homemade bread fix without waiting for dough to rise. Yum!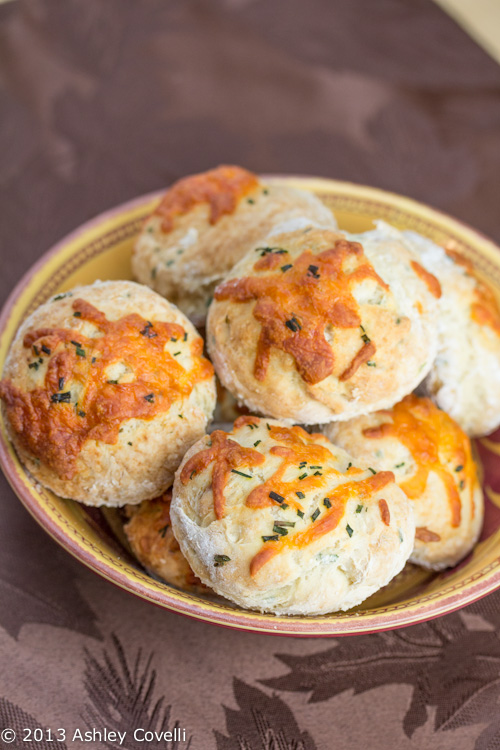 Cheesy Soda Scones
Recipe Girl (adapted from Rachel's Irish Family Food - Rachel Allen)
Yield: 8 scones
Prep Time: 10 min Cook Time: 15 min
Wonderful little biscuit to serve with soup or stew. Change up the cheese and/or herbs as you see fit (think: Swiss, Gouda, rosemary, thyme!)
1 ¾ cups All Purpose Gold Medal® Flour*
½ teaspoon salt
½ teaspoon baking soda
½ tablespoon finely chopped chives (plus a few extra)
½ + ⅓ cups buttermilk (measure ½, then measure ⅓)
⅓ cup grated sharp cheddar cheese
1. Preheat the oven to 475 degrees. Flour a baking sheet.
2. Sift the flour, salt and baking soda into a bowl. Mix in ½ tablespoon chives. Make a well in the center and pour the buttermilk into the well. Using one hand, with your fingers outstretched like a claw, stir in a full circular movement from the center to the outside of the bowl to form a dough. The dough should be soft, though not too wet and sticky.
3. When the dough comes together, turn it out onto a well-floured surface. Pat the dough until it is about ¾-inch thick. Cut into 8 rounds and place on the prepared baking sheet. Sprinkle each round of dough with cheese and additional chives.
4. Bake for 15 minutes, or until golden and sounding hollow when tapped on the bottom. Turn the oven down to 400 after 10 minutes if they are already golden. Remove from the baking sheet and place on a wire rack to cool slightly before serving.
*Optional: use Gluten Free
Big Flavors Rating: 4 Stars