This post may contain affiliate links, which won't change your price but will share some commission.
Stonesoup is hands down one of my favorite food blogs. I love going there for simple, healthy recipes, and usually ones that require very few ingredients. I was making Thomas Keller's Favorite Simple Roast Chicken again for dinner tonight, and I wanted a simple side dish to make while the chicken was roasting. I love the idea of having something that's usually a grain be made of a vegetable. This "couscous" was great! Very simple flavors, super easy to put together, and satisfying. It was a big hit with my family. Plus, who doesn't love putting handfuls of goat cheese on top of things? Plus, I love all of the variations given with her recipes. I think I'd enjoy this in any of these styles! Also, she has a new cookbook coming out soon. I pre-ordered it about a month ago and it's going to be around the end of March when I get it. Can't wait!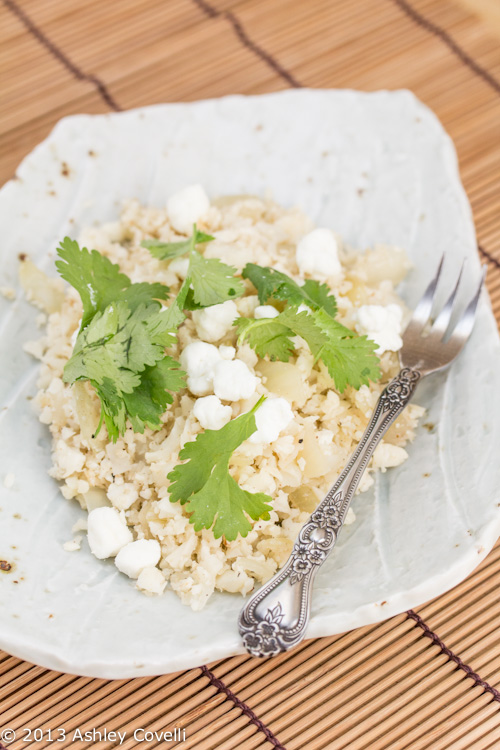 Cauliflower 'Couscous' with Goats Cheese
Stonesoup
serves 3-4
Cauliflower has to be one of the most underrated vegetables. Like its cousin broccoli, it's chocked full of nutrients. But the lack of green colour means it doesn't feel as 'healthy' as other greens. This can be a benefit though if you're looking for a 'stealth' veggie.
2 onions, peeled & chopped
1 cauliflower
2 teaspoons ground coriander
1 bunch coriander (cilantro), leaves picked
2 handfuls goats cheese
1. Soften onion with a little oil in a large frying pan over a medium heat. Stirring occasionally it will take between 5-10 minutes.
2. Grate cauliflower using your food processor. Or just whizz the cauli until very finely chopped.
3. When the onion is soft add cauli and coriander to the pan. Continue to cook, stirring occasionally until cauli is soft and starting to brown – about 5 minutes.
4. Season. Serve cauli topped with coriander and crumbled goats cheese.
VARIATIONS
vegan / dairy-free – replace goats cheese with avocado or roasted pine nuts.
budget – replace goats cheese with ricotta, yoghurt or cottage cheese.
carnivore – serve as a side dish to roast chicken, grilled chicken breasts or lamb cutlets.
green couscous – replace cauli with broccoli.
less serves – feel free to halve or quarter this recipe as needed.
Big Flavors Rating: 4 Stars