This post may contain affiliate links, which won't change your price but will share some commission.
I had planned on making this soup earlier in the week, but it was unseasonably warm here in New York, and I just couldn't get into soup-mode. So I waited until Friday when it was cold outside, and paired this with an amazing Spinach and Cheese Quiche. This soup is slightly sweet from the carrots, and the parsnip chips on top are a really nice accompaniment. For some reason, I couldn't find chives this week, so I used some green onion that I had on hand. Make sure to season this with enough salt and pepper - it definitely needs it.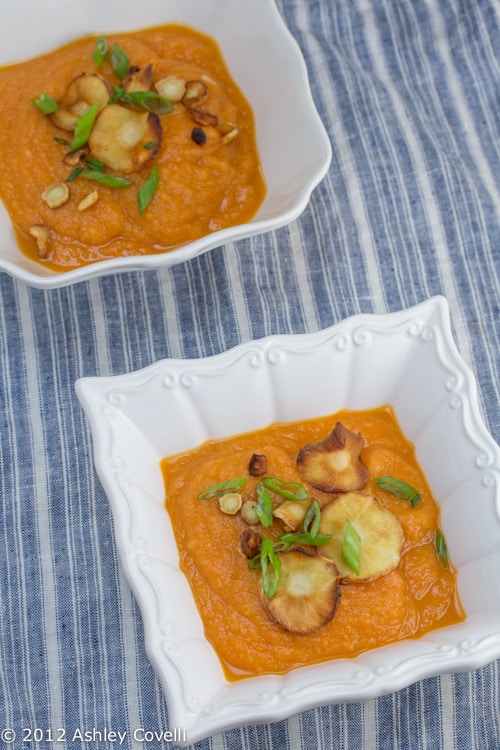 Carrot-Parsnip Soup with Parsnip Chips
Cooking Light December 2004
Winter root vegetables, like carrots and parnsips, lend their complementary, slightly sweet flavors to this easy soup recipe.
Yield: 6 servings (serving size: 1 ⅓ cups soup, about 2 teaspoons parsnip chips, and ½ teaspoon chives)
2 tablespoons olive oil, divided
2 ½ cups chopped yellow onion
3 cups coarsely chopped parsnip (about 1 pound)
3 cups water
2 ½ cups coarsely chopped carrot (about 1 pound)
2 (14-ounce) cans fat-free, less-sodium chicken broth
¼ teaspoon salt
¼ teaspoon freshly ground black pepper
½ cup (⅛-inch-thick) slices parsnip
1 tablespoon chopped fresh chives
Heat 1 teaspoon oil in a Dutch oven over medium heat. Add the onion, and cook 10 minutes or until tender, stirring occasionally. Add chopped parsnip, water, carrot, and broth; bring to a boil. Reduce heat, and simmer 50 minutes or until vegetables are tender. Remove from heat; let stand 5 minutes.
Place half of carrot mixture in a blender; process until smooth. Pour pureed carrot mixture in a large bowl. Repeat procedure with remaining carrot mixture. Stir in salt and pepper.
Heat remaining 5 teaspoons oil in a small saucepan over medium-high heat. Add parsnip slices; cook 5 minutes or until lightly browned, turning occasionally. Drain on paper towels. Sprinkle parsnip chips and chives over soup.
Note: Stir in more water or broth if you prefer a thinner consistency.
Big Flavors Rating: 4 Stars