This post may contain affiliate links, which won't change your price but will share some commission.
This is another recipe from the cookbook that came with my Vitamix. It was pretty simple to put together, although my carrots were a little too big to chop properly. I had to take them out and cut them down into smaller pieces. The other thing is that I left the vent lid on, so I didn't see steam escaping from the blender. I'm not sure if I was supposed to take that part off, or if I was supposed to turn it...all I know is that I didn't want soup all over my ceiling, so I just let it blend for a few minutes and it felt hot on the outside of the blender, so I stopped it. This soup is nice and rich - the tofu gives it a really nice consistency and creaminess. It's a great vegan option for dinner. I heated up the last Tahini Kale Stuffed Belgian Waffle so that Dino could try it out with the soup. It was a really nice dinner!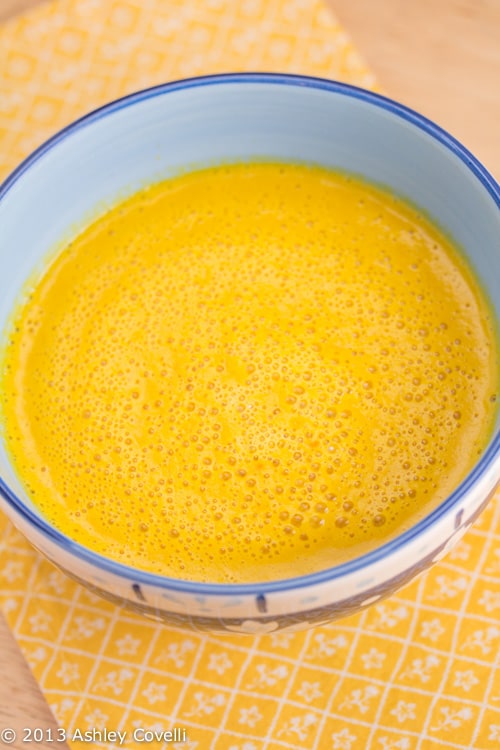 Carrot Ginger Tofu Soup
Vitamix
4 (244 g) medium carrots, peeled, halved or 2 cups chopped
¼ (18 g) small onion, peeled or 2 tablespoons chopped
4 small garlic cloves, peeled
2 tablespoons (30 ml) oil
½ teaspoon salt
pinch of white pepper
1 tablespoon chopped fresh ginger root or Ginger Paste
⅓ cup (70 g) light silken tofu
2 cups (480 ml) low sodium vegetable or chicken broth
Place carrots, onion and garlic into the Vitamix container and secure lid.
Select Variable 1.
Turn machine on and slowly increase speed to Variable 4 or 5.
Blend for 10 seconds or until chopped.
Heat oil in a small pan and sauté chopped ingredients until onion is clear and carrots are tender. Add a little broth, if needed.
Place remaining ingredients into the Vitamix container, add sautéed ingredients and secure lid.
Select Variable 1.
Turn machine on and slowly increase speed to Variable 10, then to High.
Blend for 3-4 minutes or until heavy steam escapes from the vented lid.
Big Flavors Rating: 4 Stars