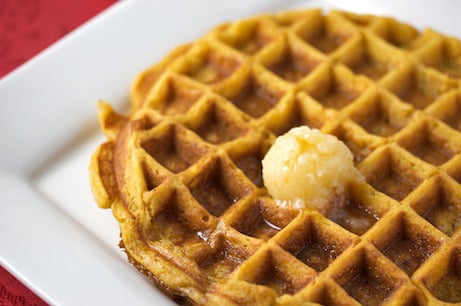 Buttermilk Pumpkin Waffles
This post may contain affiliate links. Thank you for supporting the brands that keep me creative in my tiny kitchen!
Dino made these for breakfast today, and we really liked them! He was inspired to use some of the leftover Orange-Honey Butter from the biscuits I made a few days ago. So he took the waffle part of a recipe and we topped them with the butter and some maple syrup. They were really tasty, and super fluffy. We prefer our waffles to have a bit of crispiness on the outside, and these didn't. He cut the recipe in half, and it made 3 waffles – I have no idea what world they're living in where the amount of batter in the full recipe makes 16 waffles!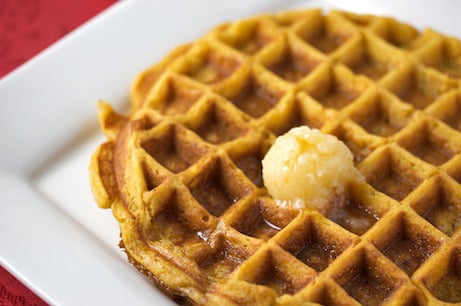 Buttermilk Pumpkin Waffles
Sunset October 2008
From Buttermilk Pumpkin Waffles with Apples and Apple Cider Syrup.
Makes 16 waffles
2 cups flour
1 tablespoon baking powder
½ teaspoon baking soda
½ teaspoon salt
5 tablespoons sugar
1 teaspoon ground ginger
1 teaspoon ground nutmeg
1 teaspoon ground cinnamon
2 large eggs, separated
¼ cup vegetable oil
2 cups buttermilk
¾ cup canned pumpkin
Cooking-oil spray
Make waffles: In a medium bowl, whisk together flour, baking powder, baking soda, salt, sugar, ginger, nutmeg, and cinnamon. In another medium bowl, whisk egg yolks until pale yellow; whisk in oil, buttermilk, and pumpkin.
In bowl of a stand mixer fitted with the balloon whisk, beat egg whites until soft peaks form. Add egg yolk mixture to flour mixture, stirring to combine. Gently fold in egg whites just until blended.
Preheat oven to 200°. Preheat a waffle iron and coat it with cooking-oil spray. Ladle 1 cup batter (or amount directed by waffle-iron maker) onto hot iron, spreading with a spatula, and cook until nicely browned, about 5 minutes. Transfer waffle directly to oven rack. Repeat with remaining batter. Meanwhile, reheat apples and syrup.
Nutritional notes:
Calories:
552 (38% from fat)
Protein:
7.4g
Fat:
23g (sat 9.8)
Carbohydrate:
82g
Fiber:
3.1g
Sodium:
623mg
Cholesterol:
90mg
MacGourmet Rating: 4 Stars