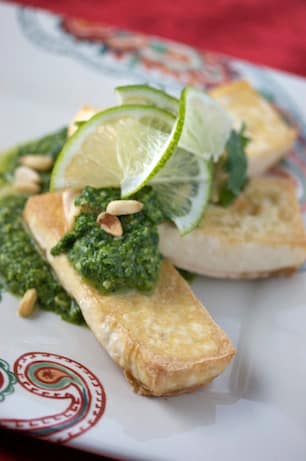 Broiled Tofu with Cilantro Pesto
This post may contain affiliate links. Thank you for supporting the brands that keep me creative in my tiny kitchen!
This recipe really missed the mark for us. The pesto isn't good. I love cilantro, I love pine nuts…but the Asian twist on this just doesn't work. At least the tofu won't go to waste since it's kept separate from the sauce. Yuck.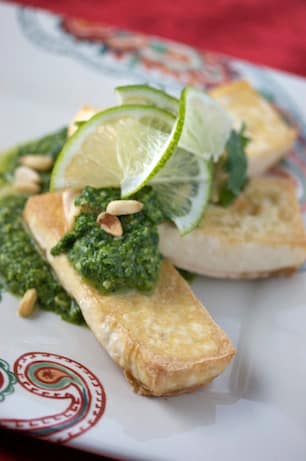 Broiled Tofu with Cilantro Pesto
Gourmet November 2004
¼ cup mild olive oil plus additional for brushing
2 (14- to 16-oz) packages firm tofu, rinsed and drained
2 cups packed fresh cilantro leaves
2 tablespoons pine nuts
1 tablespoon fresh lime juice
2 teaspoons Asian fish sauce
1 teaspoon Asian sesame oil
1 teaspoon sugar
½ teaspoon salt
⅛ teaspoon black pepper
Garnish: pine nuts, fresh cilantro leaves; lime wedges
Preheat broiler and lightly oil a shallow flameproof baking pan with olive oil.
Cut each block of tofu crosswise into 6 slices and pat dry between several layers of paper towels. Arrange in 1 layer in baking pan and brush tops of slices with more olive oil. Broil 4 to 6 inches from heat, without turning, until golden brown, about 15 minutes.
While tofu is broiling, purée cilantro, pine nuts, lime juice, fish sauce, sesame oil, sugar, remaining 1/4 cup olive oil, salt, and pepper in a food processor until bright green and smooth, about 1 minute.
Transfer tofu with a slotted spatula to a platter and serve with cilantro pesto.
MacGourmet Rating: 2 Stars