This post may contain affiliate links, which won't change your price but will share some commission.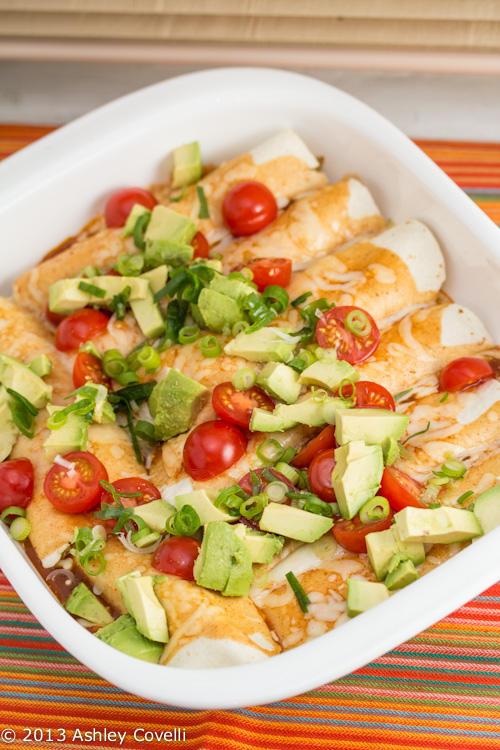 I love breakfast, and I love serving breakfast for dinner. When I saw this post in my feed reader, I immediately put it on the menu for this week.  Breakfast burritos? Check. How had it never occurred to me to combine breakfast with enchiladas? What a fantastic idea! This was a super tasty meal. I used 8 tortillas for this and mozzarella cheese, since I had some left from when I made Individual Pizzas with Cauliflower Crust. I even got to use some of my Homemade Taco Seasoning for these bad boys. I served them with hot sauce and sour cream. I didn't have any cilantro, so I sprinkled some extra green onion on top.
Also, just a note, I started posting some behind-the-scenes photos over on Instagram. It has been a fun way to give people a sneak peek at what's going on in my tiny kitchen!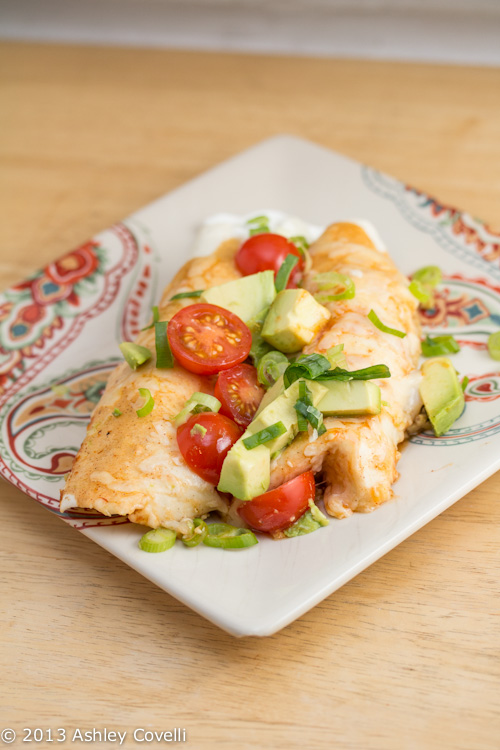 Breakfast Enchiladas
ValSoCal
7 flour tortillas
9 large eggs
2 tablespoons milk
2 tablespoons butter
2 teaspoons of taco seasoning
2 teaspoons canned green chiles
3 green onions, sliced
salt and pepper ( to taste )
½ teaspoon garlic powder
1 cup of monterey cheese
1 can enchilada sauce
1 cup cherry tomatoes, cut in half
1 avocado, diced
1) Preheat oven to 350 degrees. Meanwhile in a skillet heat 2 tablespoons of butter.
2) In a large bowl whisk eggs, milk, taco seasoning, green chilies, onions, pepper and salt.
3) Place egg mixture in the skillet with melted butter. When eggs are almost - cooked through add half a cup of cheese.
4) When eggs are cooked through place eggs into the tortillas and roll them and place in a baking dish. Pour sauce over the rolled tortillas, add cheese and bake for about 10 to 12 minutes. Place tomatoes and avocados on top.
*Note - you can add sour cream and cilantro as toppings.
Big Flavors Rating: 4 Stars