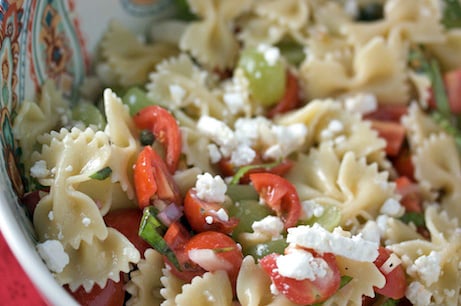 Bow Ties with Tomatoes, Feta, and Balsamic Dressing
This post may contain affiliate links. Thank you for supporting the brands that keep me creative in my tiny kitchen!
I made this meal out of the current issue of Cooking Light hoping that the combination of ingredients would work well. It sounded weird, but just weird enough to maybe be great! It has a lot of components but they're all really fresh and tasty. It tasted better than I had hoped – there are a lot of different flavors going on. You have sweet from the grapes, tang from the vinegar and capers, salty feta, and juicy tomatoes. The only change I made was to use fresh garlic. It's a really unique dish, and the vinaigrette really pulls it all together.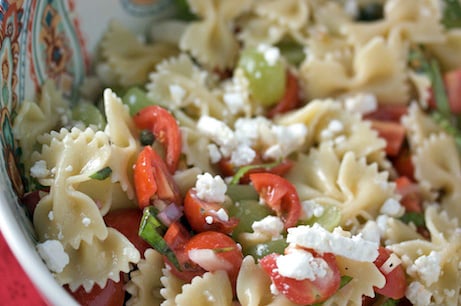 Bow Ties with Tomatoes, Feta, and Balsamic Dressing
Cooking Light July 2009
Serve with pan-grilled asparagus. Combine 1 teaspoon extra-virgin olive oil, 1/4 teaspoon salt, 1/8 teaspoon freshly ground black pepper, and 1 pound trimmed asparagus. Heat a grill pan over medium-high heat. Coat pan with cooking spray. Add asparagus to pan; cook 5 minutes or until tender, turning once.
Yield 4 servings (serving size: 2 cups)
6 ounces uncooked farfalle (bow tie pasta)
2 cups grape tomatoes, halved
1 cup seedless green grapes, halved
⅓ cup thinly sliced fresh basil leaves
2 tablespoons white balsamic vinegar
2 tablespoons chopped shallots
2 teaspoons capers
1 teaspoon Dijon mustard
½ teaspoon bottled minced garlic
½ teaspoon salt
¼ teaspoon freshly ground black pepper
4 teaspoons extra-virgin olive oil
1 (4-ounce) package crumbled reduced-fat feta cheese
1. Cook pasta according to package directions, omitting salt and fat. Drain. Combine cooked pasta, tomatoes, grapes, and basil in a large bowl.
2. While pasta cooks, combine vinegar and next 6 ingredients (through pepper) in a small bowl, stirring with a whisk. Gradually add oil to vinegar mixture, stirring constantly with a whisk. Drizzle vinaigrette over pasta mixture; toss well to coat. Add cheese; toss to combine.
Nutritional notes:
Calories: 320
Fat: 9.9g (sat 3.8g,mono 3.6g,poly 0.7g)
Protein: 14g
Carbohydrate: 45.6g
Fiber: 3.4g
Cholesterol: 10mg
Iron: 2mg
Sodium: 822mg
Calcium: 130mg
MacGourmet Rating: 4 Stars
I made the suggested side dish and it was great, too!