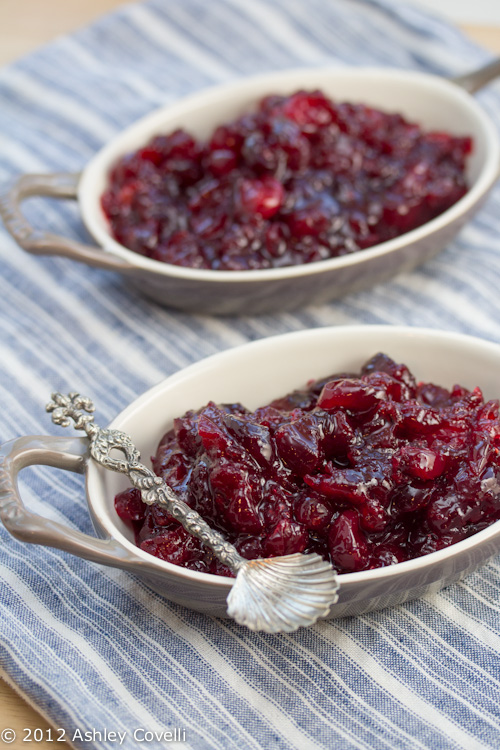 This post may contain affiliate links. Thank you for supporting the brands that keep me creative in my tiny kitchen!
My new motto – when in doubt, just add bourbon! I like having Thanksgiving dinner at my in-laws' house, because I get to bring fun sides and desserts instead of messing with cooking a turkey. This cranberry sauce was a HUGE hit last year, so it was a no-brainer that I'd be making it again for this year's festivities. I had a problem with the sauce overflowing in the oven the first time I made it last year, so I adapted it to simmering it on the stovetop, covered, stirring twice. It cooked in about half the time, so it's even easier! This stuff is seriously addictive – consider yourself warned! 😉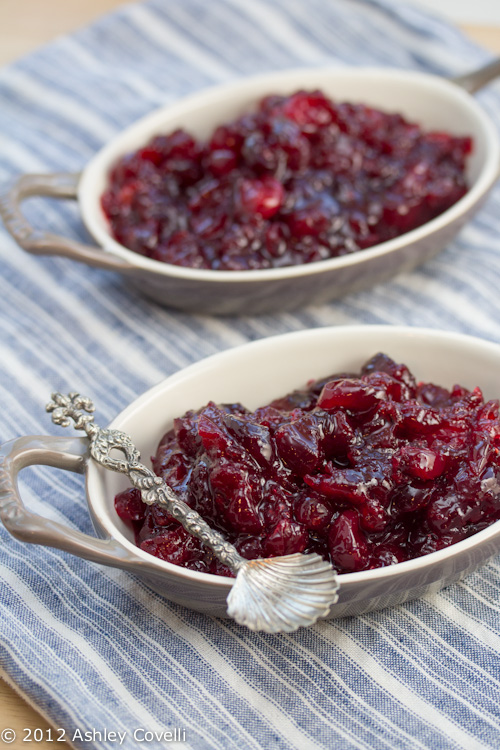 Bourbon Cranberry Sauce
Bon Appétit November 1991
yield: Makes about 3 cups
1 pound (about 4 cups) cranberries
2 cups sugar
1/4 teaspoon ground cinnamon
1/4 cup bourbon
Preheat oven to 350°F. Combine first 3 ingredients in 9×13-inch baking dish. Cover tightly with foil and bake until cranberries are tender and sugar is dissolved, stirring once, about 1 hour. Remove from oven and stir in bourbon. Refrigerate cranberry sauce until well chilled. (Can be prepared 1 week ahead.) Transfer to bowl and serve.
Big Flavors Rating: 5 Stars