This post may contain affiliate links, which won't change your price but will share some commission.
I wanted a healthy and easy meal for Friday night, and this one looked awesome. I love the recipes over at Stonesoup - it's perfect comfort food that doesn't leave you feeling like you ate a bunch of junk. This was a really nice recipe - the black pepper packs quite a kick! I love the addition of yogurt and mint to this dish. It doesn't taste overly cauliflower-y (I'm looking at you, derryX), and the chickpeas make it hearty enough to fill you up without a bunch of meat. I love the variations that are given at the end of most of the Stonesoup recipes - they offer lots of ways to enhance or change up one recipe to make it feel different. I served this on top of basmati rice, and it was a wonderful meal.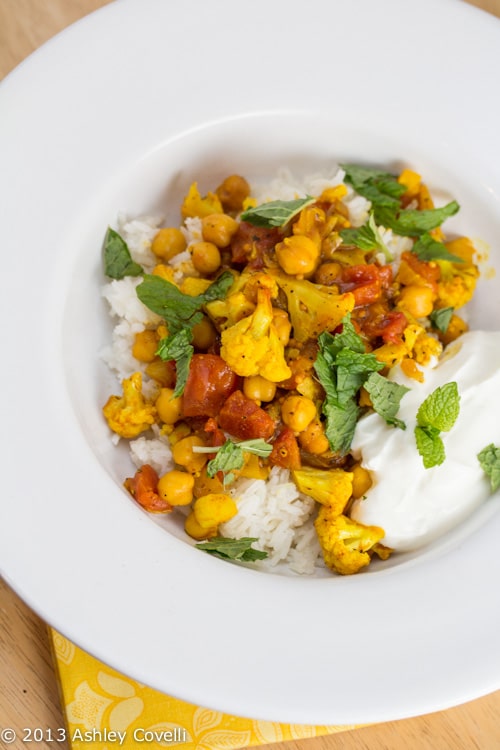 Black Pepper & Chickpea Curry
Stonesoup
Takes about 20 minutes
While this curry has a mostly Indian vibe with the ground cumin and mustard seeds, it was actually inspired by a Thai curry. If you've ever had a real jungle curry, it may surprise you to know that the heat actually comes from peppercorns not chilli.
I'm a massive fan of black pepper so decided to try the same idea out using black pepper in a chickpea curry. I love the rounded warmth you get from the pepper – much more subtle than chilli but in some ways even more delicious.
This recipes uses quite a bit of pepper, so if you have a spice or coffee grinder, it's worth getting it dirty. If you don't, be prepared for a workout to grind 2 tablespoons with your pepper mill.
enough for 2-3
1 large onion, peeled & chopped
½ medium cauliflower, chopped into small florettes about the size of a grape
2 tablespoons freshly ground black pepper
2 teaspoons ground cumin
2 teaspoons ground turmeric
2 teaspoons yellow mustard seeds, optional
1 can tomatoes (400g / 14oz)
1 can chickpeas (400g / 14oz), NOT drained
2 handfuls mint leaves, optional
4-6 tablespoons natural yoghurt
1. Heat a little oil in a medium saucepan. Cook onion covered over a medium low heat until soft, about 8 minutes.
2. Add cauliflower, pepper, cumin, turmeric and mustard seeds, if using. Stir to combine.
3. Add tomatoes and chickpeas and the juices from both cans. Use a spoon to break up the tomatoes a little.
4. Cover and simmer for 5 minutes on a medium heat.
5. Stir. And continue to cook for another 5 minutes or until the cauliflower is no longer crunchy. If you want a thicker curry leave the lid off, if you're happy with the consistency, leave the lid on.
6. When the cauli is tender, taste and season with salt and more pepper if you need more heat. Serve with mint leaves, if using and a big dollop of yoghurt.
VARIATIONS
5 ingredients – skip the onion and replace the pepper and spices with 2 tablespoons garam marsala spice blend. And skip the mint leaves too…. you'll need to change the name to 'chickpea curry' but it will still be lovely.
carnivore – replace the cauliflower with finely sliced chicken thigh fillets or breast, about 450g (1lb). You may need to increase the cooking time to ensure the chicken is cooked all the way through.
dairy-free / vegan – serve with coconut yoghurt instead of the natural yoghurt. OR serve with lime wedges instead of the yoghurt to give a hit of freshness.
different veg – most veg will work well here. Zucchini, red capsicum (bell peppers), peas, broccoli can all be added with the cauliflower. Root veg like sweet potato, beetroot, parsnip or potato can also be used but makes sure they're cooked until tender first.
greener – stir in a few handfuls of chopped kale or baby spinach leaves with or instead of the mint.
hotter – replace black pepper with a few finely sliced small hot red chillies with the seeds left in.
Big Flavors Rating: 4 Stars