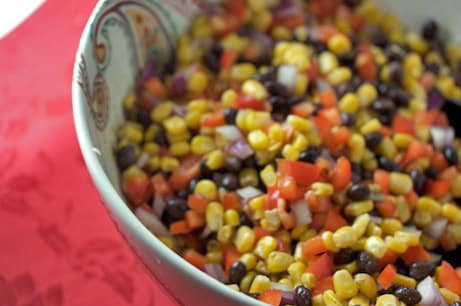 Black Bean and Corn Salad
This post may contain affiliate links. Thank you for supporting the brands that keep me creative in my tiny kitchen!
I love everything that goes into this salad, but for some reason I wasn't crazy about it. Dino and his parents really liked it, so maybe it's just me. Using frozen corn is a really fun way to chill the salad, and it's a snap to put together.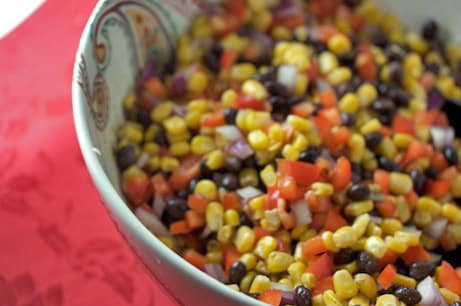 Black Bean and Corn Salad
30-Minute Meals – Rachael Ray
1 can black beans – (14 oz), rinsed, drained
2 cups frozen corn kernels
1 small red bell pepper, seeded, chopped
½ red onion, chopped
1 ½ teaspoons ground cumin
2 teaspoons Tabasco hot sauce
1 lime, juiced
2 tablespoons vegetable or olive oil
Salt, to taste
Freshly-ground black pepper, to taste
Combine all ingredients in a bowl. Let stand at least 15 minutes for corn to
fully defrost and flavors to combine, then toss and serve.
The corn will also place a quick-chill on this easy side-salad as it
defrosts — no need to refrigerate!
This recipe yields 4 servings.
MacGourmet Rating: 3 Stars