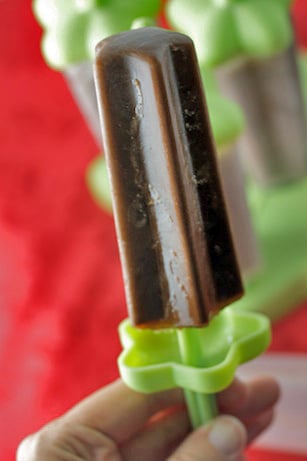 Bittersweet Chocolate-Bourbon Ice Pops
This post may contain affiliate links. Thank you for supporting the brands that keep me creative in my tiny kitchen!
When I saw this post over at The Bitten Word, I knew that I had to finally cave in and buy some ice pop molds. I'd been considering it for a long time now, but seeing a post called Boozy Ice Pops – I mean WOW. How could I resist? These were super easy to put together, and the taste was all grown up. They were a big hit with my husband's band mates when they rehearsed at our house tonight. There isn't a whole lot of bourbon in them, but it's enough to get the essence in the pops. My only complaint is that I got a bit of a gritty texture on the roof of my mouth after finishing one of these. I think maybe it was the cocoa powder. Regardless, it's a small price to pay for such a classy take on a childhood dessert.
I'll be using these molds for a lot of future desserts, and I can't wait!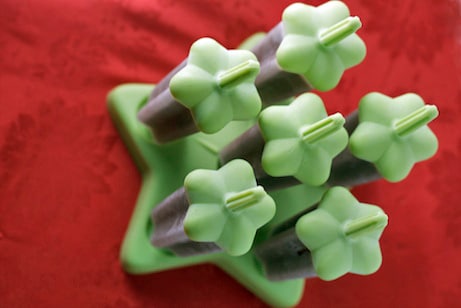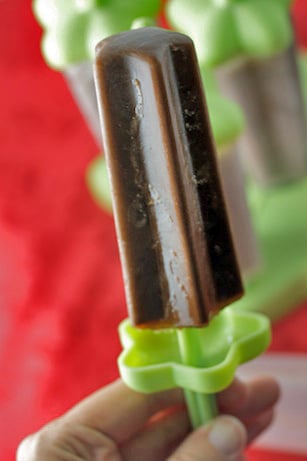 Bittersweet Chocolate-Bourbon Ice Pops
Fine Cooking August/September 2009
Dark chocolate and bourbon make for a truly decadent frozen treat. Since the bourbon doesn't get cooked, it's worth splurging on the high-end stuff. Yields 8 pops.
½ cup granulated sugar
3-½ ounces bittersweet chocolate (70% to 72%), chopped
2 tablespoons Dutch-processed cocoa powder
⅛ teaspoon table salt
2 tablespoons good-quality bourbon (like Knob Creek)
Put the sugar, chocolate, cocoa powder, salt, and 2 cups water in a large saucepan. Bring to a boil over medium heat, whisking constantly. Transfer to a 4-cup glass measure (or any container with a spout for easy pouring). Let cool at room temperature for 30 minutes.
Stir in the bourbon and divide the mixture among eight 3-oz. pop molds or wax-lined paper cups. Freeze until just set, about 3 hours. Insert craft sticks and freeze until completely set, about 4 hours more. When ready to serve, unmold or peel off the paper cups.
Make Ahead Tips: The pops can be frozen for up to 3 days.
MacGourmet Rating: 4 Stars