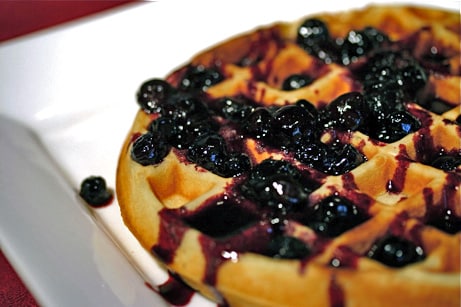 Belgian Waffles with Blueberry Sauce
This post may contain affiliate links. Thank you for supporting the brands that keep me creative in my tiny kitchen!
Dino made another batch of these waffles, and this time made them with all white flour, as the recipe was originally written (he usually does 1 cup white and 1 cup whole wheat). He also made a yummy topping out of frozen blueberries sautéed in some butter until they got nice and warm and plump. Yum!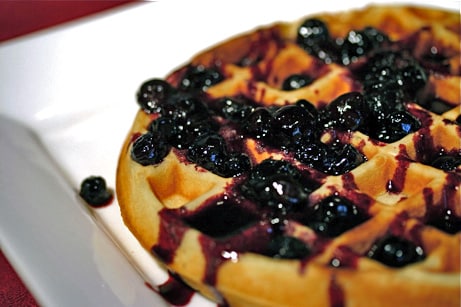 Belgian Waffles
Adapted From: allrecipes.com – Megan
"Simple waffles made with flour, egg, butter and sugar."
Serving Size: 5
Ingredients:
2 cups all-purpose flour
1 teaspoon salt
4 teaspoons baking powder
2 tablespoons white sugar
2 eggs
1 1/2 cups warm milk
1/3 cup butter, melted
1 teaspoon vanilla extract
1 can vegetable oil spray
Prep Time: 20 Minutes
Cook Time: 15 Minutes
1. In a large bowl, mix together flour, salt and baking powder; set aside.
2. In a separate bowl, beat the eggs and sugar. Stir in the milk, butter and vanilla. Pour the milk mixture into the flour mixture; beat just until barely blended. Let stand for 10-20 minutes.
3. Preheat waffle iron to desired temperature.
4. Fully coat the iron with cooking spray. Ladle the batter into a preheated waffle iron. Cook the waffles until golden and crisp. Serve immediately.
MacGourmet Rating: 5 Stars