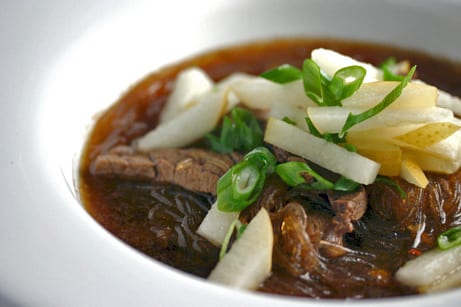 Bean Thread Noodles with Beef and Asian Pear
This post may contain affiliate links. Thank you for supporting the brands that keep me creative in my tiny kitchen!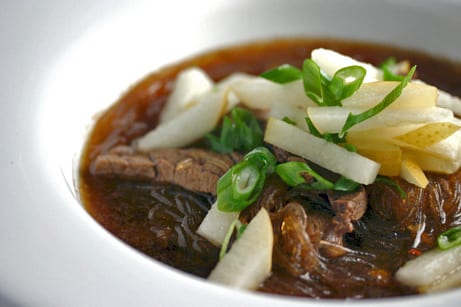 This dish was really tasty! If MacGourmet let me give half stars, this one would get a 4.5. The cool, crunchy sweetness of the Asian pear is a really nice contrast to the warm, slightly spicy, brothy soup. The cut of meat makes this incredibly tender. This was definitely a hit tonight!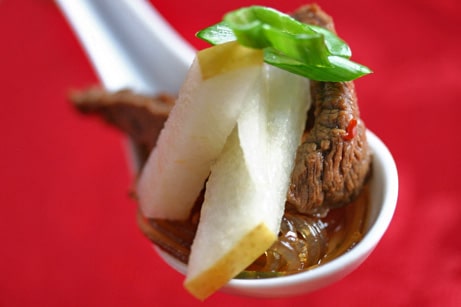 Bean Thread Noodles with Beef and Asian Pear
Gourmet November 1999
yield: Makes 4 servngs
active time: 30 min
total time: 30 min
¼ lb. bean-thread noodles (also known as cellophane noodles)
4 garlic cloves, minced
⅓ cup soy sauce
2 tablespoons sugar
1 tablespoon Asian sesame oil
1 teaspoon dried hot red pepper flakes
½ cup plus 1 teaspoon rice vinegar (not seasoned)
1 lb. filet mignon, cut into 1/4-inch-thick julienne strips
2 (14 1/2-oz) cans beef broth
¼ cup water
1 Asian pear, cut into julienne strips
2 scallions (green parts only), thinly sliced
Soak noodles in a bowl of cold water until pliable, about 15 minutes, and drain. Cut into 2-inch lengths. While noodles are soaking, stir together garlic, soy sauce, sugar, sesame oil, red pepper flakes, and 1/2 cup vinegar. Add beef and marinate at room temperature, stirring occasionally, 15 minutes. Bring broth and water to a boil. Add beef and marinade and cook 2 minutes. Stir in noodles and cook until just tender, about 2 minutes.
Toss pear and scallions with remaining teaspoon vinegar. Spoon noodles and broth into bowls and top with pear and scallions.
MacGourmet Rating: 4 Stars