This post may contain affiliate links, which won't change your price but will share some commission.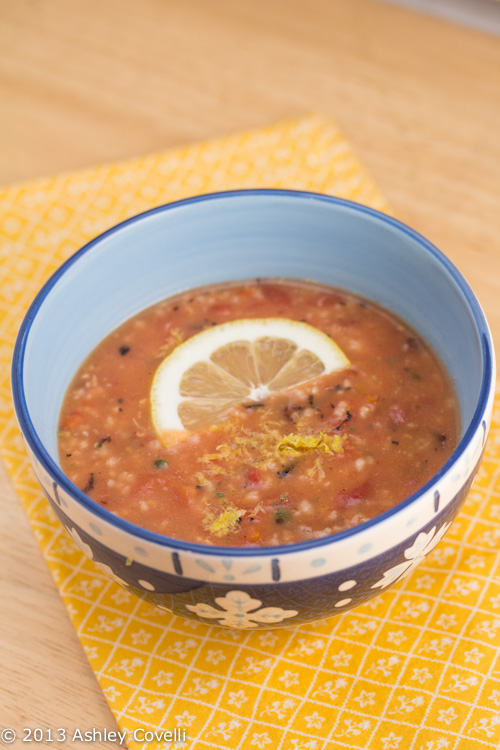 I picked up a really interesting book on whole grains from the library, and this is the first recipe that I tried from it. I like the idea of adding steel-cut oats to a soup to make it heartier, and I really liked the flavor of this soup, but I feel like it would have been nicer as a bisque. I don't think that the oats would have worked with it in that case. I think they would be better in a stew than a soup like this, but it may just be personal preference. The fire-roasted tomatoes have great flavor, and the acidity from the lemon zest and pesto really went well with it. I'll work with this combination of flavors again, but probably won't make this particular recipe again.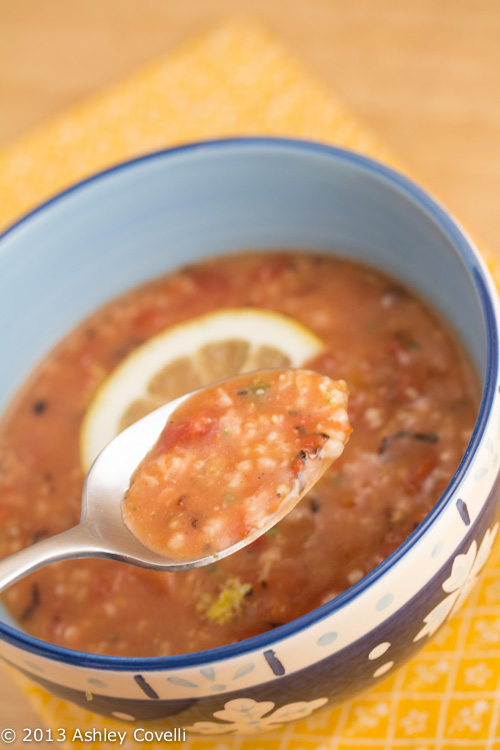 Basil-Scented Oat and Tomato Soup
Whole Grains for Busy People: Fast, Flavor-Packed Meals and More for Everyone - Lorna Sass
The last-minute addition of store-bought pesto and a little fresh lemon zest transforms this simple soup into something special But the real cook's secret is the steel-cut oats, which give the soup satisfying body and a beautiful surface sheen. The oats also make the soup quite filling.
Serves 4
½ cup steel-cut oats
1 can (28 ounces) diced tomatoes, preferably fire-roasted, with liquid
1 to 2 tablespoons store-bought basil pesto
Salt
Grated zest of 1 small lemon
Speed Tip: Use store-bought pesto enlivened with fresh lemon zest to add complex flavor and richness fast.
In a heavy 6-quart soup pot bring 4 cups of water and the oats to a boil. Cover and cook over medium heat for 15 minutes, taking care to avoid boil-overs.
Stir in the tomatoes. Cover and continue to cook, stirring occasionally, until the oats are tender, 15 to 20 minutes more. Stir in the pesto and salt to taste.
Ladle into soup bowls. Grate lemon zest on top of each portion before serving.
Other ideas:
-Balance the final flavor with a little sugar or honey and/or a few drops of balsamic vinegar.
-Add ¼ teaspoon crushed red pepper flakes with the tomato.
-Swap out 2 cups water for 2 cups vegetable or chicken broth.
Big Flavors Rating: 3 Stars