This post may contain affiliate links, which won't change your price but will share some commission.
Dino wanted to try out crepe making this weekend, and I'm so glad he did. These turned out AWESOME. He filled them with crème fraiche and blackberry jam. I put some sliced bananas on mine and it was delicious. I took some step-by-step photos so he can post a tutorial - he found a really good method for easy crepe-making. Stay tuned!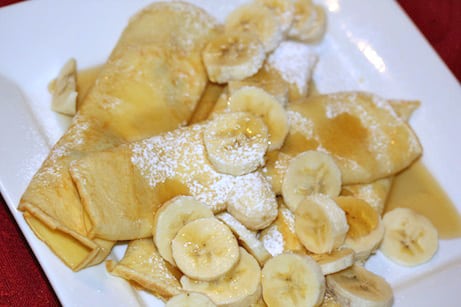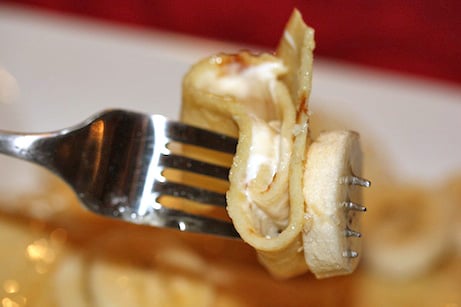 Basic Crepes
Adapted from Allrecipes.com JENNYC819
"Here is a simple but delicious crepe batter which can be made in minutes. It's made from ingredients that everyone has on hand."
Prep Time:10 Min
Cook Time:20 Min
Ready In:30 Min
2 eggs
½ cup milk
½ cup water
2 tablespoons butter, melted
1 cup all-purpose flour
¼ teaspoon salt
1. In a large mixing bowl, whisk together all ingredients up to the flour.
2. Combine the flour and salt in a separate bowl.
3. Slowly incorporate the flour and salt mixture into the wet ingredients, whisking thoroughly.
4. Heat a lightly oiled non-stick frying pan over medium high heat.
5. Scoop ¼ cup of the batter onto the pan, tilting the pan in a circular motion to coat the surface evenly.
6. Cook the crepe for about 2 minutes, until the bottom is light brown. Loosen with a spatula, turn and cook the other side.
Additional Notes:
I worked out a system of transferring the finished crepe to a plate and began cooking the next one. When it is time to flip the cooking crepe over, I added the filling to the cooked one and rolled it up. I put the finished crepe on a warming burner so I could serve them all hot at once.
MacGourmet Rating: 5 Stars