This post may contain affiliate links, which won't change your price but will share some commission.
I had a few overripe bananas hanging out in the kitchen, and I decided that a late night baking session was in order. I even recruited my husband to help out. This was a cinch to put together, and our efforts were rewarded with some really moist and delicious banana muffins right before midnight. My son has been eating them for breakfast, and he loves them! He even tries to say "muffin" to get more (sounds like "ma-pa" and it's too cute!). This is a great recipe to use when you're short on time and/or energy, but want some tasty banana treats.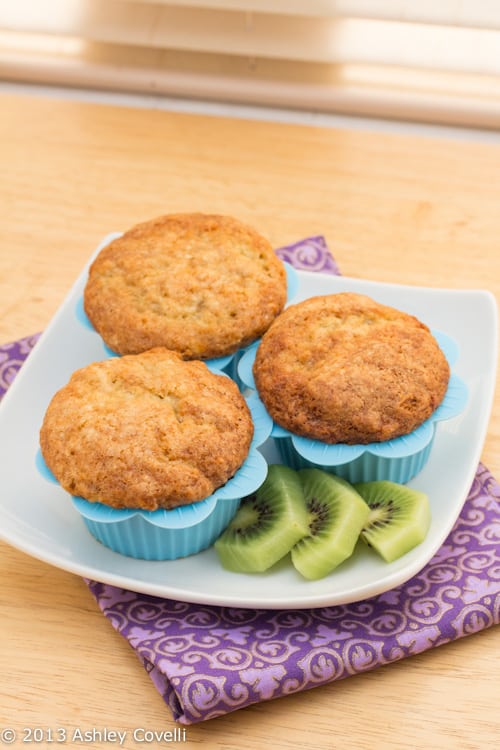 Banana Muffins II
Allrecipes - ABI_GODFREY
"These delicious banana muffins are easy for kids to make."
PREP 10 mins
COOK 25 mins
READY IN 35 mins
Makes 12 muffins, or 48 mini muffins
1 ½ cups all-purpose flour
1 teaspoon baking powder
1 teaspoon baking soda
½ teaspoon salt
3 large bananas, mashed
¾ cup white sugar
1 egg
⅓ cup butter, melted
1. Preheat oven to 350 degrees F (175 degrees C). Coat muffin pans with non-stick spray, or use paper liners. Sift together the flour, baking powder, baking soda, and salt; set aside.
2. Combine bananas, sugar, egg, and melted butter in a large bowl. Fold in flour mixture, and mix until smooth. Scoop into muffin pans.
3. Bake in preheated oven. Bake mini muffins for 10 to 15 minutes, and large muffins for 25 to 30 minutes. Muffins will spring back when lightly tapped.
Big Flavors Rating: 4 Stars