This post may contain affiliate links, which won't change your price but will share some commission.
This was a really easy slow-cooker recipe. It turned out good, but nothing special. I dunno, for some reason, I feel like onions always take on this kind of strange flavor when cooked in the slow cooker. And it's not just my slow cooker... I've used a few different ones, and they're always just a little weird. That being said, this was a really quick dish to put together, and the house smelled amazing while it was cooking. This may be something that I'd like better cooked on the stovetop rather than in the slow cooker.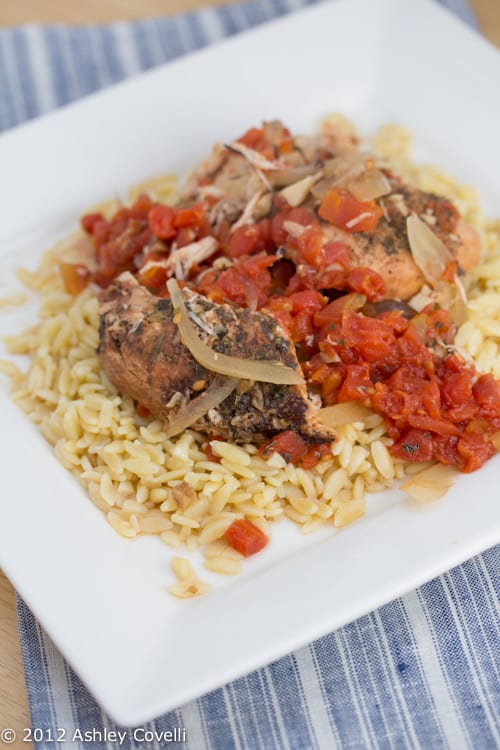 Balsamic Chicken (Slow Cooker)
Dishing With Leslie
4 - 6 boneless, skinless chicken breasts
2 Tbs olive oil
¼ cup balsamic vinegar *sometimes I use more
2 14.5 oz cans petite diced tomatoes, *do not drain
1 sweet onion, halved and thinly sliced (not chopped)
2-4 garlic cloves, minced
1 teaspoon each: dried oregano, basil, and rosemary
½ teaspoon thyme
freshly cracked black pepper and salt, to taste
1 teaspoon sugar
Pour olive in the bottom of slow cooker. Season each chicken breast with salt and pepper and place in to slow cooker. Sprinkle with dried herbs and minced garlic. Top with sliced onions. Pour in vinegar and top with tomatoes. Sprinkle with 1 teaspoon sugar. Cook on high for 3 to 4 hours or on low for 6. Serve over angel hair pasta. Sit back and enjoy! This is hands down one of my best and my most favorite dishes!
LESLIE'S NOTES: Also really delicious when served over garlic mashed potatoes, roasted cauliflower, or a bed of sauteed zucchini. Fresh tomatoes also work well. I like to use about 6 to 8 roma tomatoes. Just chop them up and add to the pot.
Big Flavors Rating: 3 Stars