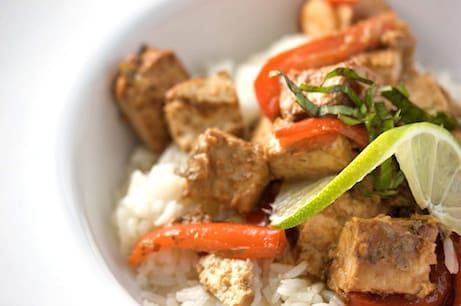 This post may contain affiliate links. Thank you for supporting the brands that keep me creative in my tiny kitchen!
This dish was OK but not great. I might have overdone the lime juice a bit, because it was really sour. The tofu didn't get crispy for me – I think it would have to be baked on the top shelf of the oven to achieve that texture. Or it would need to be baked for longer. The parts of the bell pepper that got a little blackened in the oven were awesome – it was like having freshly roasted red peppers in there. I feel like there were a lot of steps for a dish and it was just OK. I won't be making it again. Some Sriracha on top definitely helped it out.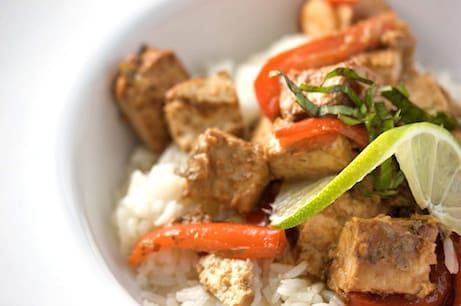 Baked Thai-Style Tofu
Jeanne Lemlin
Serves 3
This method of baking marinated tofu gives it a crispy coating and intensifies all the flavors in the "sauce". You'll also love the ease with which this dish can be put together. A side portion of rice, or plain couscous is the best accompaniment. Don't hesitate to serve this dynamic tofu dish cold; it would make a great lunch to take to work.
The Marinade:
2 tablespoons tamari soy sauce
1 tablespoon oriental sesame oil
1 tablespoon canola oil
½ teaspoons minced gingerroot
1 garlic clove, minced
¼ teaspoon crushed red pepper flakes
1 lb. extra firm tofu, cut into 3/4 inch cubes and patted very dry
1 red bell pepper, cut into thin strips, 1/4 inch by 2 inches
The Sauce
1 tablespoon natural-style peanut butter
2 tablespoons lime juice
1 scallion very thinly sliced
2 teaspoons finely chopped fresh basil, or 1/4 tsp dried
2 teaspoons finely chopped fresh mint, or 1/2 tsp dried
1. Combine the marinade ingredients in a large bowl. Using a rubber spatula, gently fold in the tofu and red pepper to coat them evenly with the marinade. Let sit 30 minutes at room temperature, or up to 8 hours chilled. Toss occasionally.
2. Preheat the oven to 450 degrees. Place the tofu mixture and any remaining marinade in a large shallow baking dish so that the tofu rests in one layer. Bake 15 minutes, tossing once with a spatula after about 7 minutes.
3. Meanwhile make the sauce by stirring all its ingredients together with a fork. Remove the tofu from the oven. Spoon on the sauce, then, using a spatula toss the ingredients together until everything is well coated. Return the dish to the oven and bake undisturbed for 10 minutes. Let the tofu sit for at least 10 minutes before serving for it is better when warm, and not piping hot.
MacGourmet Rating: 3 Stars