This post may contain affiliate links, which won't change your price but will share some commission.
I had some squash blossoms from my trip to the Farmers Market last week, and I decided that stuffing them was the way to go. This recipe was super simple, and we ended up having some very delicately flavored stuffed squash blossoms as a side dish for dinner tonight. I used whole wheat panko instead of regular breadcrumbs, and they were nice and crunchy outside, with smooth, creamy ricotta inside. One note that almost all squash blossom recipes seem to omit - make sure you open up the blossoms and check them for bugs. I know, I know... it sounds gross, but they're flowers! There are these little striped bugs that like to hide out inside them. Make sure you take a look and pick any bugs out before you stuff them. I've never seen a batch of squash blossoms that didn't have at least 3 of these little pests inside of them. I didn't warn Dino about that once when he prepared them, and we uh... had extra company at dinner ;).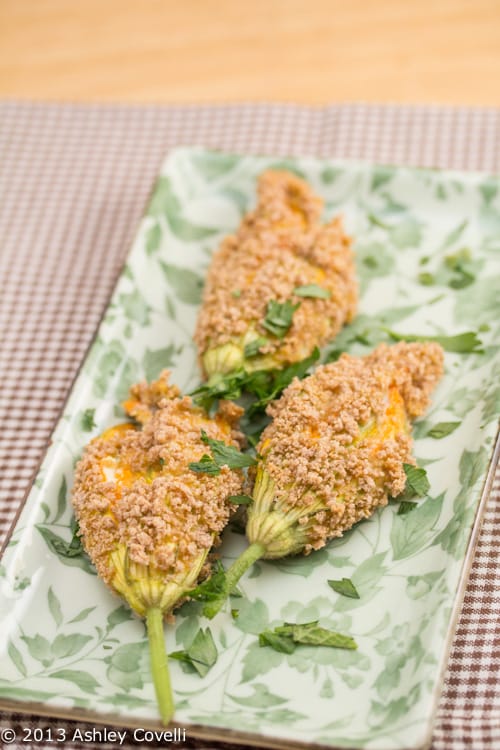 Baked Stuffed Squash Blossoms
Katherine Martinelli
Baked stuffed squash blossoms make for a beautiful and elegant appetizer fresh from the farmer's market.
Yield: 12 servings
1 cup ricotta
3 eggs, divided
⅓ cup chopped parsley
Salt
12 squash blossoms
¾ cup breadcrumbs
Preheat the oven to 400F.
Mix together ricotta, 1 lightly beaten egg, and parsley. Season with salt.
Put the remaining 2 eggs in a bowl and whisk. Put the breadcrumbs in another bowl.
Carefully spoon filling into each squash blossom and twist loosely at the end to close.
Dip each stuffed squash blossom in egg, then breadcrumbs, and transfer to a parchment or tin foil-lined baking sheet.
Bake for 10 minutes, until lightly browned and crispy.
Remove from the oven. Allow to cool for a few minutes before serving.
Big Flavors Rating: 4 Stars