This post may contain affiliate links, which won't change your price but will share some commission.
This was an easy and tasty dish that didn't require too many ingredients. And hey, we love both fish sauce and Sriracha my house, so I figured this one had to be a winner. The flavors are bold, and my husband absolutely loved it. He gave it 5 stars, but it was just shy of that for me. I think it needed a squeeze of lime juice or something like that to really complete it. I threw some cilantro on top to liven up the color, and I really liked the flavor it added, too. I'll totally make this again.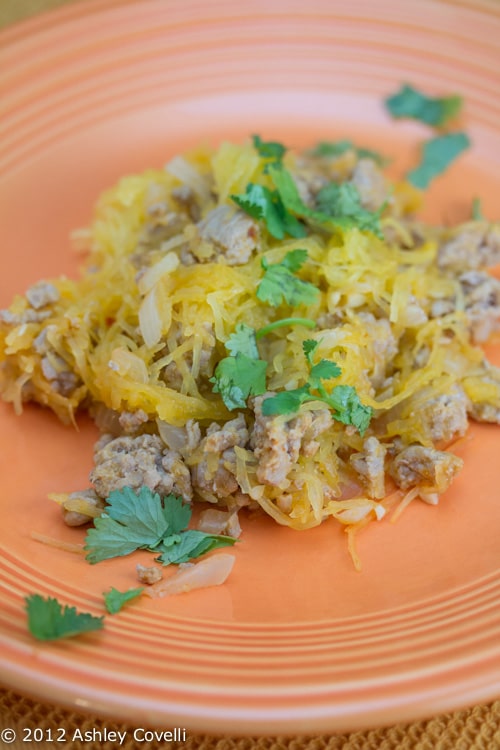 Baked Spaghetti Squash with Sriracha and Turkey
White on Rice Couple
YIELD: SERVES 4-6
TOTAL TIME: 1 HOUR
1 medium spaghetti squash
1 pound ground turkey
1 medium onion, minced
2 cloves garlic, minced
2 Tablespoons olive oil
3 Teaspoons Fish Sauce
3 Tablespoons Sriracha or hot sauce, add extra to taste
Preheat Oven to 375°F. Oil a sheet pan with first 1 T of olive oil.
Slice spaghetti squash in half lengthwise. (Use the tip of the knife to first pierce and get the cut started. Once you get the first cut started the rest of the squash should slice easily.) Scoop out the seeds and strands, then place cut side down on the prepared sheet pan.
Bake for 45 minutes, or until the squash flesh separates easily into strands with a fork. Finish loosening and removing the "spaghetti" from the shells and set aside.
In large pan, heat oil. Add onions and garlic, cook till translucent.
Add ground turkey, cook for about 5 minutes or until brown. Add fish sauce and sriracha/hot sauce. Combine evenly.
Continue cooking turkey till it's fully cooked, then add spaghetti squash.
Gently combine turkey and spaghetti squash till evenly heated. Add additional fish sauce, salt or sriracha hot sauce to taste. Serve warm.
Big Flavors Rating: 4 Stars