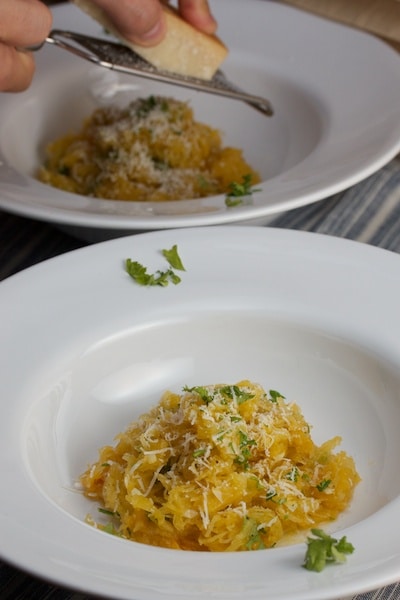 Baked Spaghetti Squash with Garlic and Butter
This post may contain affiliate links. Thank you for supporting the brands that keep me creative in my tiny kitchen!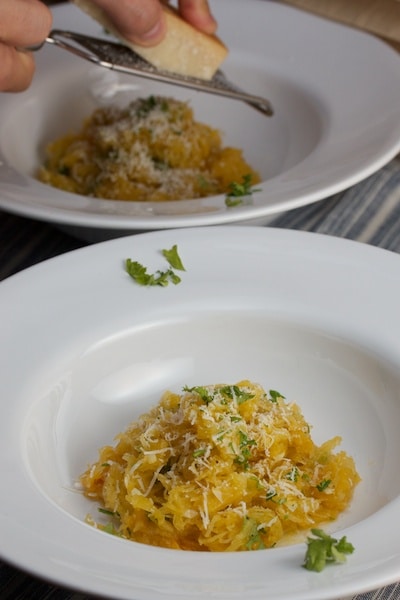 I saw this post over on Jaden's blog, and thought it looked like a great vegetarian meal. It was really easy to put together, and was a fun alternative to pasta. The only thing I'll caution (because I didn't read the directions closely enough) is to make sure you let the squash cool for 10 minutes, as directed. If you forget, and go to cut into it right away, you'll have a spaghetti squash explosion that may look similar to this: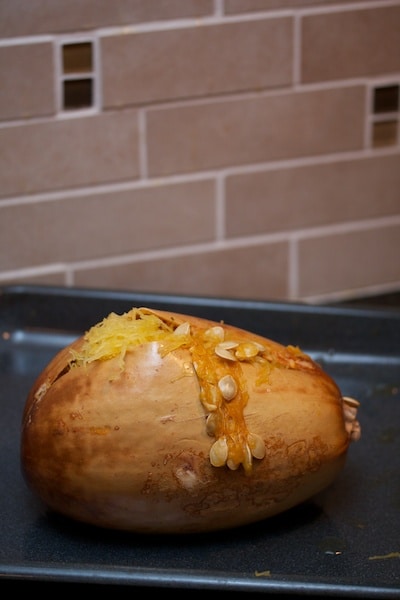 This doesn't look like it's too bad, but trust me…it's molten hot and spurts out pretty far, potentially burning anyone in a 5 foot radius, not to mention making a huge mess on the walls. Oops!
Anyway, this was a simple and tasty vegetarian meal that I'll definitely make again – perhaps with some red pepper flakes to add some heat to the squash. Yum!
Baked Spaghetti Squash with Garlic and Butter
Jaden's Steamy Kitchen
Servings: 6 Prep Time: 5 Cook Time: 60
I tend to under-bake the spaghetti squash just a bit, so it still retains just a slight crunch. Baking time really depends on how big your squash is – try to get the smallest one, especially if you're only feeding 4 people. It's ready if you can pierce the squash with a paring knife with little resistance. If you're a garlic love, don't be shy – use more!
Alternatively, microwave the whole squash for 2-4 minutes (to soften enough to cut lengthwise). Place squash cut-side down on baking sheet and roast for 30 minutes until tender.
Ingredients:
1 small spaghetti squash (about 3-4 pounds)
2 tablespoons butter
2 cloves garlic, finely minced
1/4 cup finely minced parsley (or basil)
1/2 teaspoon salt (or to taste)
1/4 cup shredded parmesan cheese
Directions:
1. Preheat oven to 375F. Bake spaghetti squash for 60 minutes, or until a paring knife pierces easily through skin with little resistance. Let squash cool for 10 minutes.
2. Cut squash in half, lengthwise. Use a fork to remove and discard the seeds. Continue using fork to scrape the squash to get long, lovely strands. If the squash seem difficult to scrape, return the squash to bake for an additional 10 minutes.
3. Heat a large saute pan with the butter and the garlic over medium-low heat. When garlic becomes fragrant, add parsley, salt and spaghetti squash strands. Toss well, sprinkle in the parmesan cheese and taste to see if you need additional salt. The spaghetti squash should have a slight crunch (i.e. not mushy) – but if you like it softer, cover the pan and cook 2 more minutes.
Big Flavors Rating: 4 Stars