This post may contain affiliate links, which won't change your price but will share some commission.
Remember that time you found an awesome recipe over on Joanne's blog, and you were all proud when you put it into the oven until you turned around and realized that you left out an entire 11 ounces of mixed greens? No, of course you don't. Who would ever do something like that? At least my husband had the brilliant idea for me to just wilt the greens down in a separate pan and add them on the side at the end. Thank goodness he did, because the greens really make this pasta dish more awesome. Goat cheese and pasta are very good friends of mine, and this was a nice, comforting meal. Next time, I'll make it right, I swear!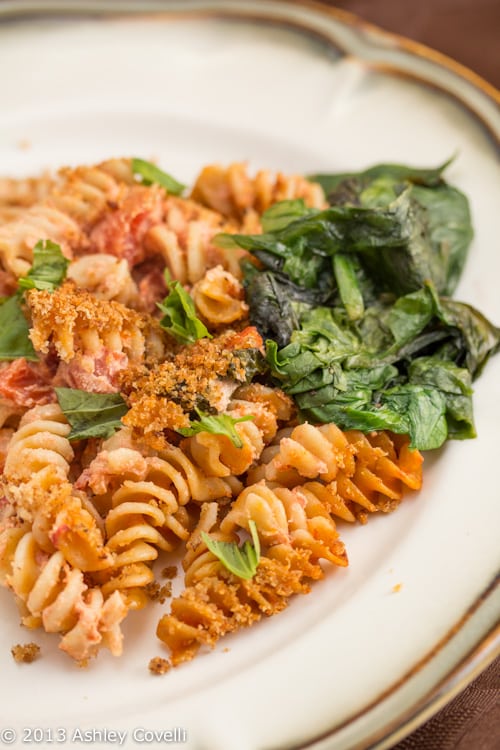 Baked Macaroni with Tomato Sauce and Goat Cheese
Eats Well with Others, adapted from the New York Times
Serves 4
½ lb whole wheat fusilli or other small pasta
2 tablespoon olive oil
2 large garlic cloves, minced
28 oz canned diced tomatoes
⅛ teaspoon sugar
salt, to taste
¼ cup basil leaves, whole
freshly ground black pepper, to taste
4 oz soft goat cheese
½ cup parmesan cheese
11 oz mixed greens
½ cup breadcrumbs
Bring a large pot of salted water to a boil. Meanwhile, make the tomato sauce. Heat 1 tablespoon of the olive oil over medium heat in a large, wide skillet. Add the garlic. Cook 30 seconds, stirring, or until fragrant. Add the tomatoes, sugar, salt and basil to the pan. Stir, turn up the heat, and bring to a boil. When it begins to bubble, lower the heat back to medium and simmer for 15-20 minutes or until thick and fragrant. Add freshly ground black pepper. Stir in the goat cheese and parmesan cheese. Taste and adjust seasonings.
Preheat the oven to 350.
When the water for the pasta starts to boil, add the pasta and cook it for a minute or two less than the package instructions say since it will cook more in the oven. In the last two minutes, add the mixed greens. Drain and transfer to a large bowl. Add the tomato-goat cheese sauce to the bowl and combine thoroughly. Transfer to an 8x8-inch baking pan or a 2 qt baking dish.
Toss the breadcrumbs with the remaining tablespoon olive oil. Sprinkle over the top of the pasta. Bake until casserole is bubbly and breadcrumbs are lightly brown, about 30 minutes. Let stand 5-10 minutes before serving.
Big Flavors Rating: 4 Stars