Baby Clams with Caramelized Onions and Oloroso Sherry
This post may contain affiliate links. Thank you for supporting the brands that keep me creative in my tiny kitchen!
For Christmas, my father-in-law and I decided to make tapas instead of a traditional dinner menu. Unfortunately, I had a pretty nasty cold, so I only managed to take photos of 2 of the things that we made in his kitchen that night. This was by far the hit of the evening! The flavors are warm and inviting, and it's a perfect dish to go with some nice crusty bread. We used regular cooking sherry and cockles for this recipe. The sauce for this dish is truly a thing of beauty!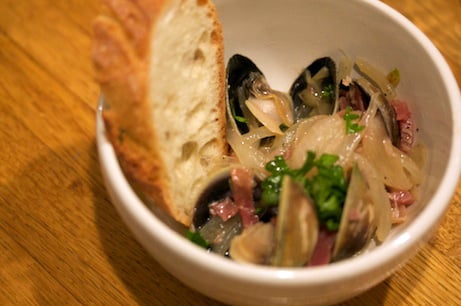 Baby Clams with Caramelized Onions and Oloroso Sherry
Small Bites: Tapas, Sushi, Mezze, Antipasti, and Other Finger Foods – Jennifer Joyce
Oloroso is a dry, raisin-scented sherry with a slightly smoky taste. It is wonderful to cook with as well as to sip chilled. Cockles may be used instead of baby clams in this recipe.
2 lb (1 kg) baby clams, cleaned and beards removed
3 tbsp olive oil
2 yellow onions, finely sliced
1/2 tsp each salt and pepper
2 garlic cloves, finely chopped
6 slices serrano ham or prosciutto, chopped
1/2 cup oloroso or manzanilla sherry
small handful flat-leaf parsley leaves, finely chopped
8 slices sourdough bread, toasted, rubbed with garlic and olive oil, to serve
Preparation time 10 minutes, plus soaking
Cooking time 20 minutes
Makes 8 small bowls of clams
1. To draw out any sand from inside the clams, soak them fully immersed in cold water with a handful of salt for 30 minutes. Rinse the clams, wrap in a wet dish towl, place in a bowl, and refrigerate until using. Discard any clams with open shells.
2. Heat the oil in a medium-sized saucepan over medium-high heat, add the onions, salt, and pepper, and sauté for 10-12 minutes, until the onions are caramelized. Add the garlic and ham, and sauté for an additional 3 minutes, until soft. Stir in the sherry and cook for 1-2 minutes.
3. Just before serving, add the clams to the pan: they should open in about 1-2 minutes. Discard any that do not open. Sprinkle with parsley and serve with crostini.
Prepare ahead
The sauce may be prepared ahead of time, and the prepared clams added and cooked just before serving.
MacGourmet Rating: 5 Stars