This post may contain affiliate links, which won't change your price but will share some commission.
If I was having a Superbowl party this year, these bad boys would be front and center. I needed to find something to use up the egg roll wrappers that I had leftover from when I made Baked Apple Pie Egg Rolls a little while ago. I saw this post the other day and thought it looked absolutely perfect. They take a little bit of effort to put them together (especially since I made my own ranch seasoning), but are totally worth the effort. I used a measuring cup to portion out the filling, and it filled 7 egg rolls for me - which happened to be exactly how many wrappers I had left. Perfection! These are nice and crispy on the outside and incredibly creamy on the inside. The slightly spicy chipotle ranch dipping sauce is awesome. My husband took one bite and just held up his hand with a "5" signal (because we're total dorks and we rate all of our meals). That "5" also left it open for a hi-five, which was definitely needed after tasting how wonderfully these turned out. Absolutely delicious! Between this and the Sinh to Bo (Vietnamese Avocado Shake) that I made yesterday, we really made great use of my avocado purchase!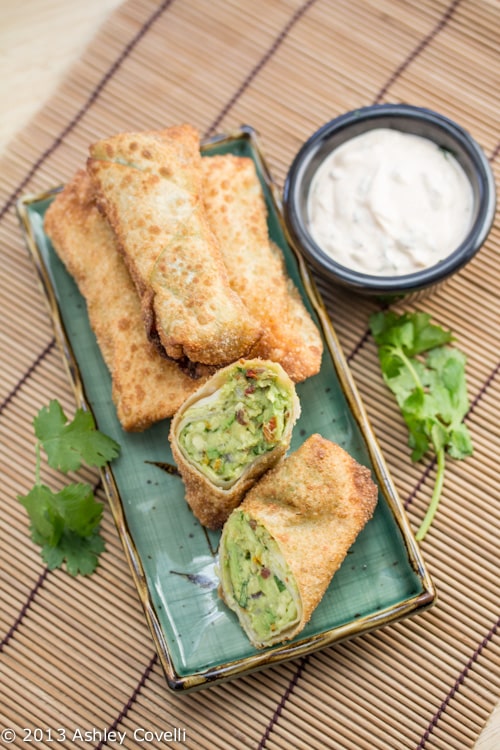 Avocado Egg Rolls with Chipotle Ranch Dipping Sauce
Taste and Tell
Prep Time: 15 minutes
Cook Time: 15 minutes
Total Time: 30 minutes
Yield: 9 full egg rolls
A riff on the popular restaurant appetizer, these Avocado Egg Rolls are easy to make at home and just as good!

Egg Rolls
3 Avocados from Mexico
⅓ cup sundried tomatoes in oil, drained and chopped
3 tablespoons finely minced red onion
2 tablespoons minced cilantro
9 eggroll wrappers
Vegetable oil, for frying
Dipping Sauce
½ cup mayonnaise
½ cup sour cream
1 tablespoon dry ranch seasoning
1 clove garlic, finely minced or grated
2 chipotles in adobo, seeds removed and chopped, plus 1 tablespoon of the sauce
1 tablespoon chopped cilantro
Make the dipping sauce: In a small bowl, combine all ingredients and mix well. Refrigerate until ready to use.
Make the eggrolls: Heat several inches of oil in a Dutch oven or heavy pan until it reaches 350F – 375F.
In a large bowl, combine the avocados, sundried tomatoes, red onion and cilantro; mix. Working with one eggroll wrapper at a time, lay the wrapper on a surface in front of you like a diamond. Add about ¼ cup of the avocado mixture to the center. Fold in the two sides, then fold over the bottom. Roll until the filling is completely enclosed in the center of the roll. Wet the corner of the wrapper so that it will stick. Continue until all 9 rolls are wrapped.
Drop the eggrolls into the hot oil, 2 or 3 at a time, and cook until golden brown. Drain on a paper towel lined plate. Cut diagonally and serve with the Chipotle Ranch Dipping Sauce.
Big Flavors Rating: 5 Stars