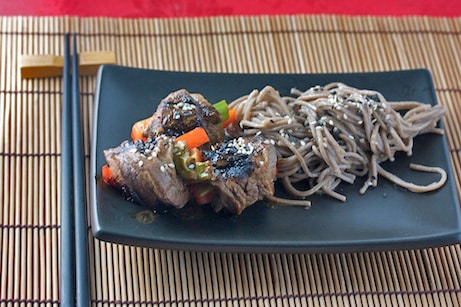 Asian Beef Rolls with Spicy Ginger Noodles
This post may contain affiliate links. Thank you for supporting the brands that keep me creative in my tiny kitchen!
This recipe is a bit tricky to pull off but it's totally worth it. I love ordering Beef Negimaki from a local Japanese restaurant, and this was pretty similar! The tricky part was getting the rolls to stay in tact. About half of mine fell apart. But whatever way you eat them, they're awesome! The marinade is really quick, and adds a great burst of flavor, and the reduction made from it is superb drizzled over top when serving. I also made the suggested Spicy Ginger Noodles. I had some soba noodles, so I used those instead of linguine. This was a great meal – definitely worth all of the work..but I might use toothpicks next time to keep frustration to a minimum.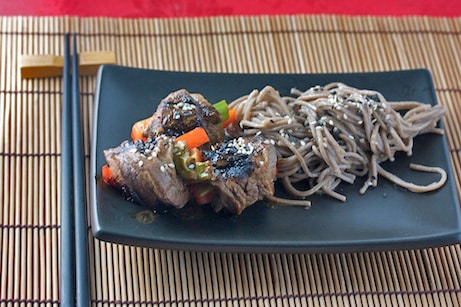 Asian Beef Rolls
Cooking Light August 2009
Serve with spicy ginger noodles. Combine 3 cups hot cooked linguine, 1 tablespoon canola oil, 1 1/2 teaspoons grated peeled fresh ginger, 1 teaspoon dark sesame oil, 1/2 teaspoon salt, and 1/2 teaspoon crushed red pepper.
4 servings (serving size: 4 rolls)
1 pound flank steak, trimmed
1/4 cup low-sodium soy sauce
2 1/2 tablespoons rice wine vinegar, divided
2 tablespoons mirin (sweet rice wine)
1 teaspoon dark sesame oil
48 (1 1/2-inch-long) pieces green onion tops (about 16 onions)
48 (1 1/2-inch-long) red bell pepper strips (about 1 large pepper)
Cooking spray
1. Cut steak diagonally across grain into 16 thin slices. Combine steak, soy sauce, 1 tablespoon vinegar, mirin, and sesame oil in a shallow dish. Marinate steak 10 minutes, turning occasionally.
2. Remove steak from marinade, reserving marinade. Place 1 steak slice on a cutting board or work surface; arrange 3 green onion pieces and 3 bell pepper strips on the end of steak slice. Roll up; set aside, seam side down. Repeat procedure with remaining steak strips, onion pieces, and bell pepper pieces.
3. Heat a grill pan over medium-high heat. Coat pan with cooking spray. Place beef rolls in pan, seam side down; cook 7 minutes, turning once.
4. While beef rolls cook, bring reserved marinade to a boil over medium-high heat; cook 3 minutes. Remove from heat; stir in remaining 1 1/2 tablespoons vinegar. Drizzle sauce over rolls.
Nutritional Information
Calories: 204
Fat: 6.8g (sat 2.5g,mono 2.7g,poly 0.8g)
Protein: 25.4g
Carbohydrate: 7.7g
Fiber: 1.5g
Cholesterol: 37mg
Iron: 2.3mg
Sodium: 589mg
Calcium: 38mg
MacGourmet Rating: 5 Stars