This post may contain affiliate links, which won't change your price but will share some commission.
I saw this on Pinterest last week, and knew that it was something I wanted to make with some of the apples that we picked. They turned out really tasty BUT it took me way longer than the recipe stated. It took my apples several hours (I lost track after 4) to get to the point where it held a mounded shape. I rolled them all in sugar right away and stored it in the fridge, even though I know that doesn't really make too much sense, because I don't want to bother rolling them in sugar every time I want a piece of candy. These are super tasty, and the apple flavor shines through with just a hint of sourness from the lemon juice. Yum.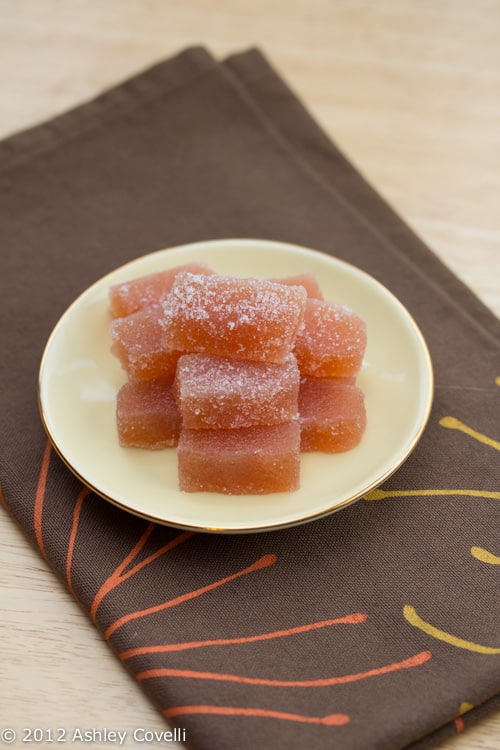 Apple Jellies
Lottie + Doof
3 pounds of apples (about 8), washed, quartered and cored
1 cup water
1 ½ cups sugar
Juice of 1 lemon
Start by lightly rubbing an 8-by-8-inch square baking pan with a flavorless vegetable oil (canola or safflower). Line pan with parchment and lightly oil parchment.
In a large pot combine the apples and the water and cook over medium heat until soft, about 20 minutes.
Pass the mixture through a food mill or sieve. [I hope you have a food mill because I think trying to get this through a sieve sounds like hell. Although, Supper in Stereo tried this and they survived so maybe you will too.] Return the puree to the pot and stir in the sugar and lemon juice.
Simmer over low heat, stirring often, for about 1 hour. As the mixture cooks and reduces, it starts to thicken and bubble. Scrape the bottom of the pan while stirring to make sure nothing is sticking and burning. The puree is done when it holds a mounded shape. To be sure, you can chill a small amount on a plate in the freezer. It should appear and feel jellied.
Spread the mixture evenly in the prepared pan. Cool for several hours or overnight. When cooled completely, invert onto a parchment lined baking sheet. Remove the top layer of parchment paper. Leave to dry, uncovered, overnight. The paste should be firm enough to cut. If for some reason it is not, put the paste in a 150° F oven for an hour or more until firm. Let cool completely before cutting. The paste can be stored whole, wrapped tightly in plastic. Or trim the edges and cut into 1-inch pieces before wrapping. Store at room temperature or refrigerated for up to a year. Before serving toss the pieces in granulated sugar to serve.
Big Flavors Rating: 4 Stars