This post may contain affiliate links, which won't change your price but will share some commission.
I don't cook on my anniversary usually. I mean, I cook almost every night, so I figure on my anniversary, I deserve a break. Dinner out. Yes indeed. However, this anniversary was not mine - it was a friend's. Her husband and my husband were both working late because of the election (they work in TV), so when I found out she was going to be spending her anniversary alone, I invited her to spend it with me and my baby. I told her I was happy to have power back from the hurricane, and I'd be cooking! All I could think about making while we had no power was soups and cookies. I just wanted comfort food - warm food - something to make the house smell good. I found this recipe and thought it looked great. I bought frozen squash (already cut up - bonus!) since one of the things I hate doing in the kitchen is trying to peel and chop up butternut squash. What a pain. So that made this recipe even easier to make, which was great for a weeknight. I used some four cheese ravioli from the store, and definitely added the molasses at the end (I love the rich flavor it brings to food). This was nice and comforting, and it has a nice kick from the cayenne. And I totally forgot that she had a squash soup at her wedding two years ago, so it was even better! I seasoned this pretty well with salt and black pepper, too, because it definitely needed it. I served this with a salad, and then had her help me cut out and decorate sugar cookies!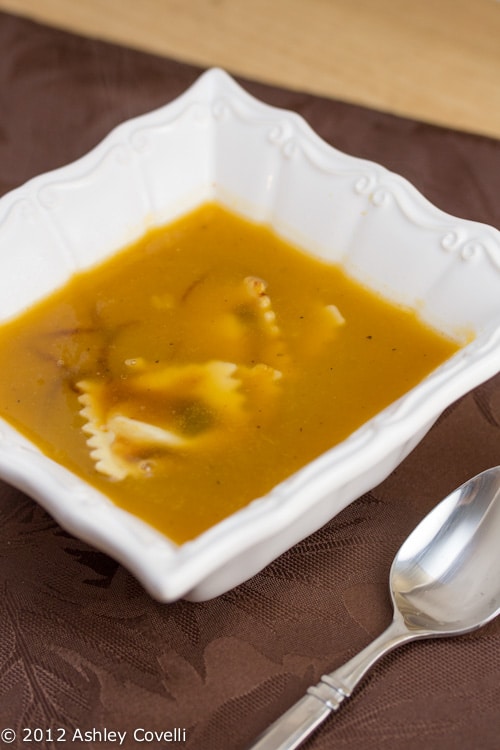 Butternut Squash Soup with Ravioli
Better Homes and Gardens
Makes: 5 servings
Start to Finish 30 mins
2 pounds butternut squash
2 14 ½ ounce can vegetable broth
½ cup water
⅛ teaspoon cayenne pepper
1 tablespoon margarine or butter
1 9 ounce package refrigerated cheese ravioli
1 tablespoon molasses (optional)
1. Peel squash. Halve lengthwise. Remove seeds and discard. Cut squash into ¾-inch pieces.
2. In a large saucepan, combine squash, broth, water, and cayenne pepper. Cook, covered, over medium heat for 20 minutes or until squash is tender.
3. Transfer one-fourth of the squash-and-broth mixture to a blender container. Carefully blend, covered, until smooth. Repeat until all of the mixture is blended.
4. Return blended mixture to large saucepan. Bring just to boiling. Immediately reduce heat. Simmer, uncovered, for 5 minutes. Add the margarine or butter, stirring until just melted.
5. Meanwhile, prepare the ravioli according to package directions. Drain. Ladle hot squash mixture into bowls. Divide cooked ravioli among bowls. If desired, drizzle with molasses. Makes 5 side-dish servings.
from the test kitchen:
Prepare soup as directed, except do not add ravioli. Cool soup. Transfer to an airtight container. Store in the refrigerator up to 2 days or label and freeze for up to 2 months. To reheat, transfer frozen soup to a large saucepan. Cook, covered, over medium-low heat for 15 to 20 minutes or until heated through, stirring often. Cook ravioli as directed and serve with soup as directed.
nutrition facts (Butternut Squash Soup with Ravioli)
Servings Per Recipe 5, cal. (kcal) 259, Fat, total (g) 10, chol. (mg) 52, sat. fat (g) 5, carb. (g) 36, fiber (g) 2, pro. (g) 10, vit. A (RE) 979, vit. C (mg) 24, sodium (mg) 933, calcium (mg) 182, iron (mg) 2, Percent Daily Values are based on a 2,000 calorie diet
Big Flavors Rating: 4 Stars