This post may contain affiliate links, which won't change your price but will share some commission.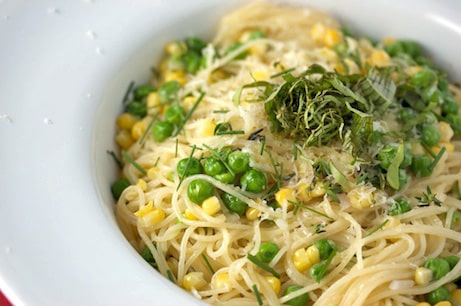 I made this for a quick lunch today and it turned out pretty good. I threw some frozen sweet corn and peas in with the angel hair while it was cooking. After draining, I sauteed some red pepper flakes, chopped shallot and garlic in oil and mixed it all together. I grated in some fresh Parmesan and topped it with some thyme, chives, oregano and basil from my garden. I added a little salt and pepper, topper oil and more Parmesan. It was pretty tasty and easy.
I have a question though - has anyone had basil that starts turning colors shortly after it's chopped? I picked it straight from my garden, and chopped it right at the end and a minute or two later, the edges where I cut it started turning dark. By the time I ate it, all the basil got really dark. I'm not sure if it's just the heat from the pasta, the fact that my plants have been subjected to rain almost every day for the last month or what. Any ideas?