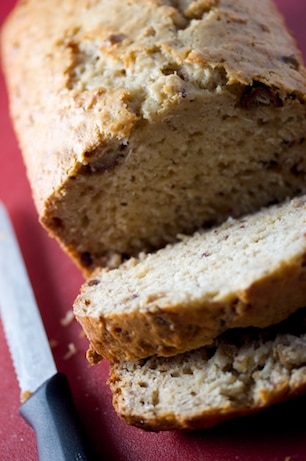 This post may contain affiliate links. Thank you for supporting the brands that keep me creative in my tiny kitchen!
I got an iPhone app a while back (for my iPod Touch…I'm not touching the phone until it comes to Verizon) called Amish Recipes. I grew up next to a town with a really big Amish population, and they really know their way around the kitchen – especially baking. So I figured I'd try out a recipe that I could justify as dessert or breakfast. The oatmeal makes it really dense and moist, and the dates add just the right amount of sweetness. This is a fantastic bread, and it's different from a lot of the other breads that I've tried. Yum!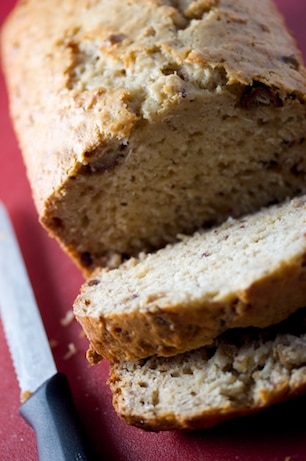 Amish Oatmeal Date Bread
Brighthouse Labs
1 ½ cups milk
1 cup rolled oats (not instant)
1 cup chopped pitted dates
2 cups all-purpose flour
4 teaspoons baking powder
1 ½ teaspoons salt
¾ cup granulated sugar
1 egg
Bring milk almost to simmer. Place oats and dates in large mixing bowl and add milk. Set aside to cool to room temperature.
Preheat oven to 325 degrees F.
In another bowl, whisk together flour, baking powder, salt and sugar. When oat mixture is cool, beat in egg. Stir in dry ingredients, mixing well.
Pour batter into a buttered 9 x 5-inch loaf pan. Bake for 45 to 50 minutes, until top is crusty and golden. Cool before slicing.
Yields 1 loaf.
MacGourmet Rating: 5 Stars